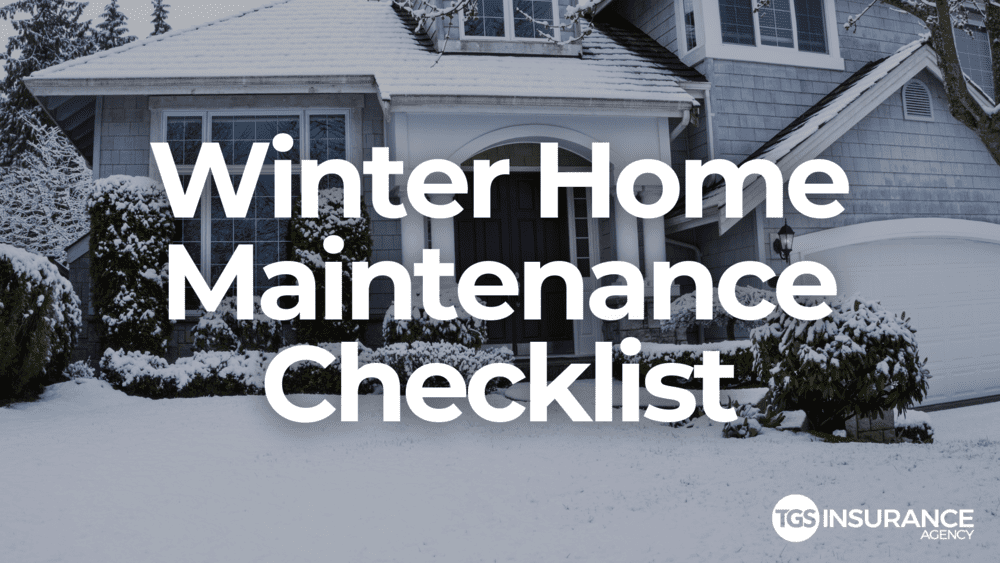 December 21st marks the first day of winter and some parts of the country have already endured below-freezing temperatures and other parts like Texas, finally, get to take a break from the hot and humid weather. For homeowners, the winter season is the beginning of preparing their homes for the cold weather to help avoid problems that could result in filing an insurance claim. 
To help make the cold-weather transition easier, Travelers put together a winter home maintenance checklist that every homeowner should follow. Let's dive in and take a closer look at how homeowners can protect their homes this winter season.
Heating System
Before you flip the switch from air conditioning to heating, be sure to take precautionary maintenance steps on your heating system. This can help prolong the life of your heater and spot out any issues that might arise.
Before winter:
Every year you should have your furnace or boiler professionally looked at before you start using it during the colder months. 

Check to see if your filter needs to be replaced or cleaned.

Have your chimney serviced by a professional on an annual basis. You'll want them to remove any buildup from your chimney, wood stoves, and fireplaces.
During Winter
Never set your heater lower than 55 degrees because the water piping inside the walls is colder than the living areas. Also, it's important to open all the interior doors in your home to maintain a consistent temperature throughout.

Always follow the manufacturer's instructions on your wood-burning or pellet stoves.

Make sure your smoke detectors, fire alarms, and carbon monoxide detectors are all properly working, and change batteries if needed. 
Your Insulation
Is your insulation able to keep your home warm? It's worth inspecting your insulation and weather stripping to ensure the cold air stays outside and warm air inside. Take a look at some things you can do to make sure your home is well insulated this winter:
When a substantial amount of heat escapes into your attic, it can warm ice and snow on your roof, and in the event it freezes it can lead to ice dams. Ice dams can lead to costly repairs and can sometimes lead to your roof collapsing. One of the best ways to avoid this is to keep your attic well-insulated. 

Adding weather strips to your entry doors and caulking your windows prevents drafts and heat loss. And bonus, it helps you save on energy costs! 

If you live in an area that is prone to storms (such as hurricanes or tropical storms), then you should consider having storm windows installed because they're better insulated and also help protect you during hurricane season. 
Your Utilities
Making sure your pipes are properly prepared and insulated to endure icy weather is extremely important. Freezing temperatures can lead to burst pipes and leave you with costly repairs. The average claim for water damage as a result of frozen pipes is about $15,000. 
If you suspect there's an issue with your home's piping, or just want to prevent any problems, inspect for water leaks and repair any issues immediately. Signs can be water stains or increases in your water bill. 

If your pipes are located in your garage, attic, or crawl spaces, then you should wrap them in UL-Listed heat tape and insulation. Only use thermostatically-controlled heat tape if you have plastic water piping.

If you are planning on going out of town during the holidays, then you might consider turning your water off for the duration you're gone.

If there's going to be a freeze, leave a faucet dripping so water stays constantly moving. 
Outdoor Winter Safety Measures
Preparing the inside of your home is very important, but inspecting the exterior of your home can also help you avoid filing a claim. 
Remove any dead branches and trim your trees to avoid them falling on your house in the event there's a snow or ice storm. 

Clean out your gutters so ice can melt and drain properly. 

Always make sure your downspouts are directed away from the foundation of your home.

Repair your steps and handrails to avoid anyone falling or slipping on ice or snow.
Preparing your home for the cold weather is the best way to avoid filing a claim this winter season. If you do find yourself in some mayhem, TGS Insurance is here to help! If you're a TGS Insurance customer, our team will help you file the claim and follow you along the claims process and your life back to normal as quickly as possible. If you're in the market for a new home insurance policy, contact our team today to see why thousands of Texans are using TGS Insurance for all of their insurance needs! Get a hassle-free home insurance quote in 15 seconds or less using just your address. No gimmicks, just great home insurance made easy.