Start Your Free Auto Insurance Quote Now
TGS Insurance
»
Auto Insurance
»
Crosby
Crosby Auto Insurance
Crosby, Texas has grown by 34% in population over the past few decades. As the city's population grows, so does the congestion on the roads. According to the Texas Department of Transportation, the average commute time in Crosby is 33.7 minutes! That's over 2 hours in the car a week just to get to work. Having Crosby auto insurance is legally and ethically necessary if you want to keep yourself, your passengers, other drivers, and pedestrians safe.
Crosby Auto Insurance: The Basics
With so much reliance on personal vehicles in Crosby, it's crucial to ensure you have proper car coverage so that you are covered in the event of an accident. In Texas, you are required to carry liability auto insurance with 30/60/25 minimum coverage limits. Liability insurance only provides financial assistance to pay for damages or injuries to other vehicles or drivers in an accident that you cause. If you carry only liability insurance, any repairs to your vehicle will come out of pocket for you. Carrying only liability insurance, especially at the minimum coverage limits, is a considerable financial risk; because of this risk, less than 0.20% of auto policies that we write in Texas are for minimum liability only. For drivers seeking coverage that provides financial protection should anything happen to their own vehicle, regardless of fault, collision and comprehensive coverages can be added. Other popular optional coverages include:
Uninsured and underinsured motorist coverage
Medical payments coverage
Personal injury protection (PIP)
Rental reimbursement coverage
New car replacement coverage
Talking with your agent is the best way to find the ideal mix of coverage and coverage limits for your policy to ensure that you are adequately insured!
How Much Does Car Insurance Cost in Crosby?
The average cost of auto insurance in Crosby is $1,144.78 per year among TGS Insurance customers. Auto insurance rates can vary significantly due to several particulars, based on your vehicle, location, and the coverage you choose, among many other things. Below is an example of some factors that influence your premium and how they do so.
Age/Driving Experience: Young drivers will pay the most for car insurance because their lack of experience behind the wheel equates to a higher risk. Typically, rates will decline with experience after the age of 25 and then start increasing again after 60.
Driving history: Car insurance providers look at your driving history to accurately predict your driving future. If you have a history riddled with speeding tickets, you will be paying for it.
Credit Score: Drivers with excellent credit may see considerably better rates than those with poor credit.
Vehicle: Insurance for a brand-new car will be more expensive because it will be more expensive to fix and/or replace than an older car. The value of your car itself also plays into your premium for the same reasons.
Annual Mileage: Statistically, the more time drivers spend on the road, the more likely they will have an accident, so higher annual mileage can mean higher premiums.
Location: Insurance providers consider many things regarding your location, such as vandalism, theft, and accident rates in the area and where you park your car (in a garage versus in a street or outside exposed to the elements). Urban drivers who park on the street often see higher rates than those who live in a more rural area and park in the garage.
How Does Location in Crosby Affect My Car Insurance Rates?
Location is a significant facet of calculating your auto insurance rates in Crosby. For example, if you live in an area with a higher population density, insurers see you as having a higher risk of getting in an accident since there are more cars on the road; consequently, you will see a higher premium than someone living in a less populated area. Insurance companies will also look at the number of uninsured motorists in your area- the higher that number is, the higher your premium will be. If you are looking for ways to reduce your premium, park your car in a garage or covered area versus the street. These are just a few examples of how your location plays into your car insurance premium.
Crosby Auto Insurance Rates by Company
Choosing your car insurance provider is about more than just the price, even though we know the cost is certainly a factor. Because each provider is in charge of setting their own rates, the same coverage can vary between carriers. The top carrier in Crosby is Safeco. TGS customers in Crosby pay an average of $1,075.21 when insured by Safeco. Looking at the numbers, an overwhelming number of people in your area have chosen Progressive over Safeco, the cheapest option. The average premium for Progressive is $1,096.46 for TGS Insurance customers.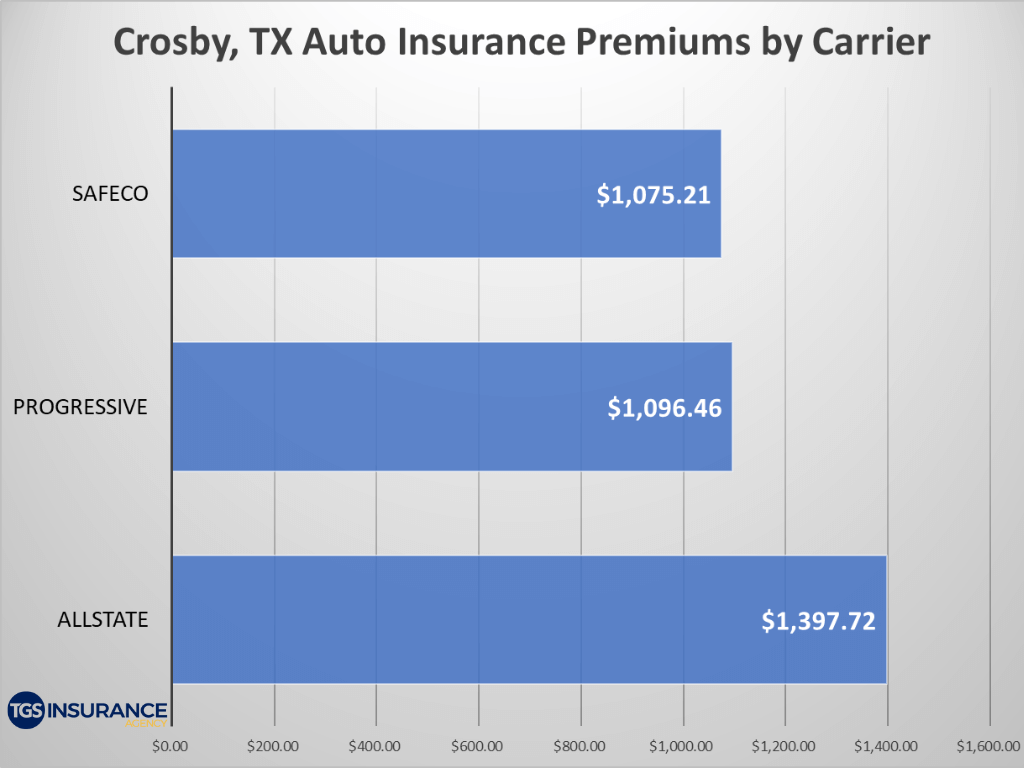 Comparison Shop Car Insurance in Crosby from Multiple Carriers in Minutes!
Shopping for car insurance can be exhausting, dull, and downright stressful. TGS Insurance Agency is here to change that. At TGS Insurance, we do all the nitty-gritty work for you, so you don't have to! Our agents will shop your car insurance policy across our bank of 35+ carriers to find you the best policy at the best price, so you never have to compromise on coverage to save money. How do you get started? Easy! All we need is your name and address; you'll get an accurate quote in 15 seconds or less. After that, our agents will further customize your policy, so it's tailored to your specific insurance needs. Shopping for car insurance has never been so simple!
Disclaimer
Every driver is unique. Insurance premium costs are impacted by several factors; therefore, we recommend obtaining an individualized quote to find your rates. Our data is representative of quality, publicly sourced, and internal data, but should not be deciphered as bindable.