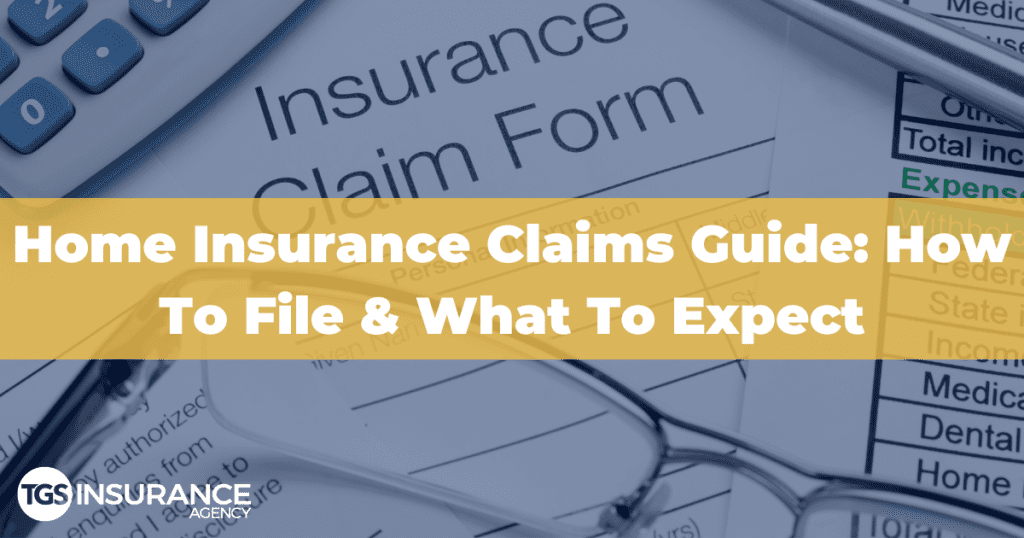 Having to file homeowners insurance claims can be an intimidating and complicated process. Homeowners need to protect their homes. If you have to file a claim, you need to understand how to submit, and what comes with the process. Your homeowners insurance covers a variety of perils that can require a claim should you suffer a loss. These include theft, a fire, windstorm/hail damage, lightning strikes, and more. Have you suffered a covered loss? Learn more about the claims process or proceed with filing your home insurance claim here.
How to File Homeowners Insurance Claims
Start With Your Agent
You can limit the damage you are suffering reasonably and safely. In that case, you should do so. Submitting a home insurance claim should begin with speaking with your home insurance agent. Your home insurance agent is prepared to help you navigate your homeowners policy through difficult times with clarity and professionalism. Contacting your agent is also important because no two homes are alike, meaning no two home insurance policies are alike. With various brands and coverage needs available, your agent is your greatest resource for navigating your policy.
Document in the Downtime
Because your loss will take a while to fix, limiting your loss is essential, as well as prompt communication with your agent. You'll be waiting on your provider to instruct you on the steps your particular carrier will need you to take. In the meantime, you'll want to document the damage as much as possible. The more information you can relay, the better. It's important to produce things such as proof of ownership and dates regarding your damaged property to your insurance company. Preparing ahead of time can help you when disaster strikes, and a great way to prepare is with a home inventory list. Look at these helpful hints for creating a comprehensive home inventory list here.
File on Time
Remember, time is essential when filing homeowners insurance claims. Many companies offer a month's worth of grace to file your claim. Others offer up to a year if there is a good enough reason for waiting. However, the more time between your loss and filing, the more complicated things can get. We do not recommend that homeowners wait and always recommend that you file your claim as soon as possible, as it is safe to do so.
Here's What You Need to do to File a Home Insurance Claim:
File a police report. (If needed.)
Call your insurance company. (Have your policy number handy!)
Fill out any online claims forms as soon as possible.
Document all of the damage with videos and pictures.
Make any emergency repairs if needed. (Ex. If you've got a burst pipe, turn off your water and drain all your pipes.)
Prepare for the insurance adjuster to come by. They're simply coming by to assess and confirm the damage and speak with you regarding the claim. To make the process smoother, provide the inspector with all documentation, including photos, videos, receipts, and a home inventory.
Get quotes from local contractors or repairers to double-check that the insurance company is giving you the proper payout.
Receive your payout and make your repairs.
TIP: Check out your home insurance policy to see your deductible. The repair amount may not even be worth filing a claim and going on your claims history if you can pay for the repair yourself. 
What Is Covered By Your Homeowners Insurance Claims?
Every homeowner will require a different amount of coverage because each home has different needs. There are three typical homeowners insurance policy types, each covering perils with varying degrees of coverage, HO2, HO3, and HO5 policies:
HO2:
A basic form of homeowners insurance coverage that will only protect homeowners against specifically named perils to your personal property (i.e., fire damage to specifically named property). If not explicitly detailed in your policy, you will not be covered.
HO3:
The most popular home insurance policy available to homeowners, HO3 policies protect against more and extend their coverage to you and your property. This is evident in that HO3 policies also include liability and medical coverage should someone become injured while on your property. There are exclusions to be aware of, such as flooding, and if it isn't in your policy, you will be liable, but homeowners get more with HO3. Most homeowners insurance policies come with a 1% deductible for all covered perils, meaning the amount you pay before insurance kicks in. Check your endorsements page to see what's covered, so you know what you've got coverage for before you file a claim. TGS Insurance even adds windstorm and hail coverage with a 2% deductible for our clients' HO3 policies to prepare them for whatever comes their way. Liability for injury and accidental death may not be the leading claim home insurance companies see. However, coverage is vital to protect you against medical bills and lawsuits. Take a closer look at the leading causes of unintentional injury deaths:

(1) Inhalation and ingestion of food or other objects that obstructs breathing.
*Image and Source: The Insurance Information Institute via The National Safety Council
HO5:
A complete form of home insurance policy that provides more significant coverage limits than you will find with an HO3 policy and more coverage. The best advantage is that homeowners have coverage against open perils, including personal property. With coverage against open perils, you have protection against everything except those explicitly listed in the policy. Those exclusions will not be covered, but everything else will. Because of this and the larger coverage limits/options, homeowners can expect to pay more on their premiums than on an HO3 policy.
The Most Common Homeowners Insurance Claims
Homeowner insurance claims and premiums continue to rise as we see a rise in natural disasters ranging from wildfires to hurricanes to destructive winter storms. This is why acting as soon as possible to lock in your homeowners insurance rate instead of waiting is vital. Your policy protects against many things, but some claims are more frequent than others. Take a closer look at the most common home insurance perils your policy covers you against: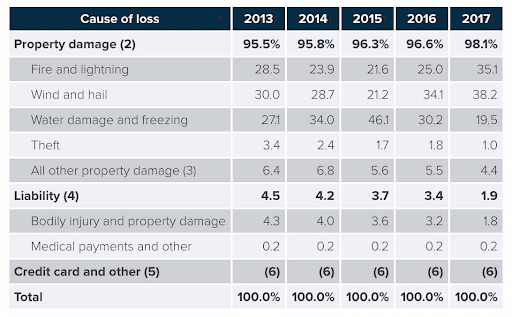 *Image and Source: The Insurance Information Institute via ISO®, a Verisk Analytics® business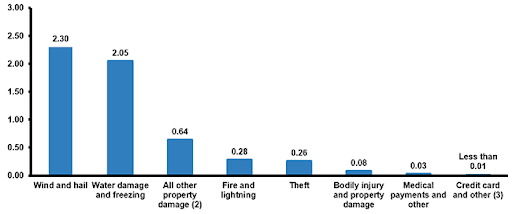 *Image and Source: The Insurance Information Institute via ISO®, a Verisk Analytics® business
Here we can see that when it comes to wind and hail perils, these are the most prevalent over time. This is, in part of, the nature of such events. Beyond severe thunderstorms, tornadoes, and gale-force winds, we have also seen a rise in destructive hurricanes and other tropical storm events in recent years across the United States.
But frequency is only one part of the equation. The severity of a homeowners insurance claims is also something to consider. For example, while you are much more likely to file a claim for water damage or wind damage, fires are the most expensive claims a homeowner will usually face, with average claims reaching nearly $80,000!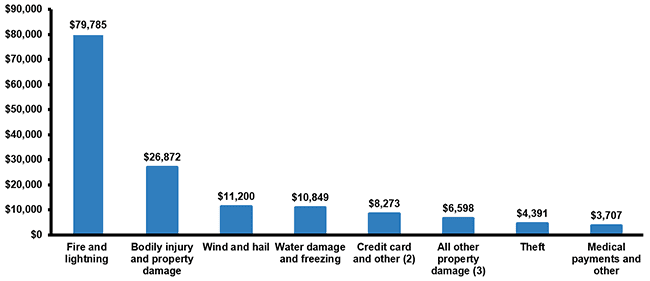 *Image and Source: The Insurance Information Institute via ISO®, a Verisk Analytics® business
Average Homeowners Insurance Claims Payout
It can be challenging to identify how much homeowners can expect their homeowners insurance claims to pay them because there are many moving pieces. Each home is unique, as is its coverage. This includes what you decide to cover, your coverage options, the value of the contents of your home, the cost of rebuilding your home, and so much more. Payouts vary from state to state as the construction cost, and disasters homeowners face will vary greatly depending on where you reside. For instance, California's average home insurance claim payout is $400 or less. In contrast, homeowners in Texas see an average payout between $601 and $700. Take a closer look at what your average will be below: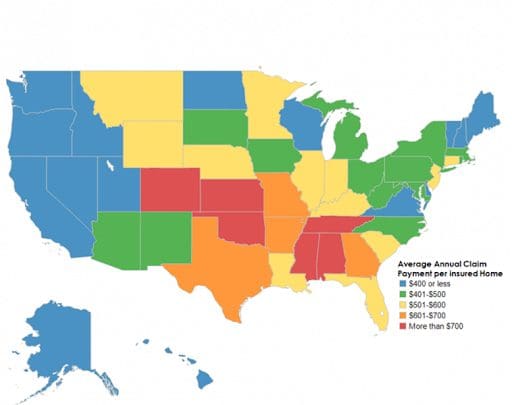 *Source: The Insurance Research Council (IRC)
You may not get payment from your homeowners insurance claims. Because what is covered will depend on different variables, most notably the coverage you choose. Every home and situation is different. If your claim gets denied, you must speak with your agent and review your home insurance policy if you can produce documentation showing that you are a victim of denying a claim unjustly.
Suppose you are unhappy with the amount your home insurance company is offering to pay for your claim. In that case, you'll need to hire a public claims adjuster to review your claim. The main difference here is that while an insurance company will send an adjuster, this adjuster will work in the interests of your homeowners insurance company. The public adjuster you hire will work for your interests. You can also use a public adjuster if you are dissatisfied with the denial of your claim, and your insurance company's adjuster will not revisit your claim.
Events Typically Not Covered By Your Homeowners Insurance
There are many perils where your homeowners insurance has your back. However, others your home may still have to face yet need more coverage with standard home insurance alone. Preparing for these perils can help you stay protected ahead of time and avoid footing the bill on your own. Get to know some of the most common perils homeowners may be surprised to learn their home insurance policy does not cover them.
Flood
One of the biggest surprises homeowners may face dealing with the aftermath of a flood. These events are powerful, destructive, and life-threatening, but you may not have coverage from your homeowners insurance. It's clear to see that there are some events involving water damage in which your homeowners insurance will provide protection. For example, if water damage caused by rain due to an exposed roof due to wind damage or accidental steam spilling from an appliance causes water damage to your home. Flood events that occur outside your house but cause water damage inside your home, including from an outdoor swimming pool, will require an additional flood insurance policy to avoid a gap in your coverage. As many as one-fourth (25%) of all flood insurance claims come from homes outside of flood zones making this a vital coverage option for homes no matter where they are.
Other Water Damage
Other forms of water damage and plumbing may also not be in your homeowners insurance; even when it is, it can complicate things for homeowners. As many as 40% of all homeowners may deal with water damage in their lifetime. According to Home Advisor, when you consider pumping out water, repairing plumbing, and restoring what is lost, thousands, if not tens of thousands, of dollars can add up quickly.
Appliances
Your homeowners insurance policy does not cover normal wear and tear to your appliances. Suppose an appliance were to become damaged or were to malfunction due to a peril that is sudden and accidental. In that case, your home insurance policy will cover it, as appliances are considered personal property. However, most appliance breakdowns are considered normal wear and tear or fall within a warranty. Because of this, homeowners will need to rely on their appliance's warranty, any extended warranties purchased, or a home warranty to cover the loss.
Termites
Termites and other infestations are preventable through routine maintenance, including annual pest control and general cleaning. Because infestations can be prevented and eradicated by trained professionals on an ongoing basis, home insurance policies do not cover these events.
Sewer Backup
Sewer backup and sump pump failure perils are gross, costly, and, unfortunately, not covered by your standard homeowners insurance policy. If you are in a situation requiring this type of repair, TGS Insurance can help. Offering our clients a unique coverage option, we protect sewer backup and sump pump issues that can cover your home starting at $5,000. It provides coverage up to $25,000 for only $25 a month! Home Advisor says the average cost of fixing sewer backup is $2,556, with full replacements potentially costing a total of $25,000. This incredible option is not available through all home insurance agencies. Yet, it can be a lifesaver in your time of need.
Gain Better Understanding and Better Coverage With TGS Insurance
Working to find our clients the best possible home insurance coverage for the lowest price is only part of what we do. TGS Insurance helps our clients save money by comparison shopping among more than 35 top-rated insurance brands. Still, we are also there for our clients well beyond enrollment to assist when needed. Whether this means understanding your policy better, bundling your home with an auto or umbrella insurance policy for even more savings, helping you file your claim, or guiding you through a claim denial, we are here for it all. Save money and receive unmatched customer service when you enroll with TGS Insurance.
Instant Home Insurance Quote
Recent Home Insurance Articles: