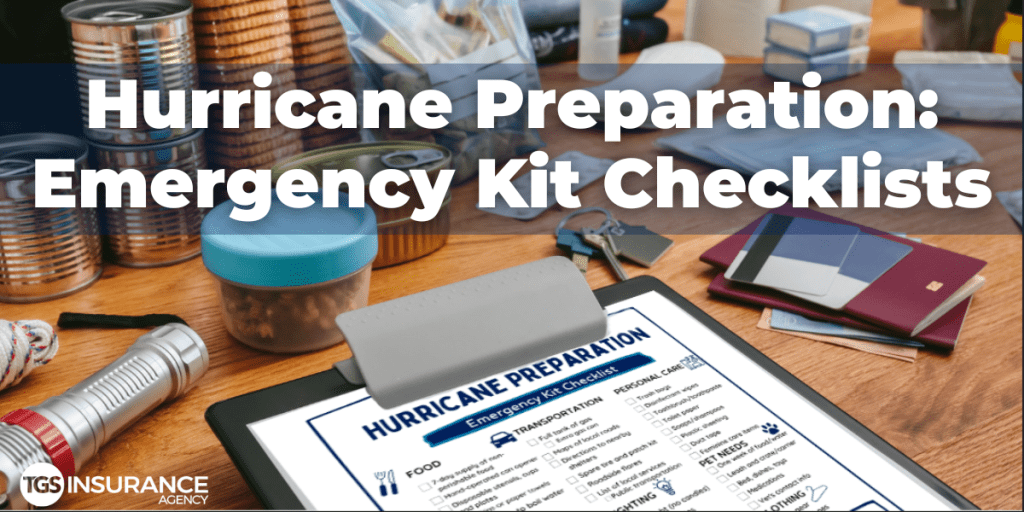 According to the National Oceanic and Atmospheric Administration, NOAA, there is a 30% chance that the 2023 Atlantic hurricane season will be busier than usual. NOAA predicts three to six major hurricanes this season. Hurricane season starts in June and ends in November; the season's peak is mid-August. With threats of storms coming at any minute, an adequately packed hurricane emergency supply kit can be a lifesaver. 
Key Takeaways
Have an emergency kit ready for natural disasters.
Know what flood zone you are in. This determines whether you should evacuate or shelter in place.
Have a way to secure important documents from storm damage.
Review your home, windstorm, and flood insurance policies.
Table of Contents
A hurricane preparedness checklist can help you build an emergency kit. An emergency supplies kit is a collection of essential items your household may need in an emergency and is designed to last for at least 72 hours, but preferably up to 7 days.
How to Make an Emergency Supply Kit for Your Home
Start with the essential supplies checklist (print out the complete TGS Hurricane Preparation Checklists and bring it to the store with you!). Then consider any additional circumstances that apply to your family, such as pets or young children. Once your purchase your supplies, keep the following in mind when building your kit:
Store items in airtight plastic bags
Put your entire kit into one or two easy-to-carry containers, such as a duffel bag, backpack, or plastic bin.
What To Have in Your Hurricane Emergency Kit
Your emergency kit should have enough supplies for you and your family based on your needs. Navigating the procedures for emergency weather situations is complicated, not knowing whether to stay or evacuate, how to prepare items, and what you should and shouldn't have. At TGS Insurance, we feel anxious when we see the storm growing in the gulf and want to help you feel more prepared for this hurricane season. The primary emergency supply kit should include the following items:
Water (three gallons per person per day for several days for drinking and sanitation)
Non-perishable foods (enough for at least seven days)
Battery-powered or hand-crank radio
NOAA Weather Radio with tone alert
First aid kit
Flashlight
Extra batteries
Whistle (to signal for help)
Dust mask (to help filter contaminated air)
Moist towelettes, toilet paper, garbage bags, and plastic ties (for personal sanitation)
Plastic sheeting and duct tape (to shelter in place)
Wrench or pliers (to turn off utilities)
Manual can opener
Portable phone chargers and a backup battery
Cash (to replace supplies if necessary)
And more…
For the complete list, download the TGS Emergency Kit Checklist.
Important Papers to Keep Safe During A Hurricane
With emergency weather comes the potential damage to your personal property and dwelling. You must have a way to protect important documents, like social security cards and birth certificates, so there is no concern about losing them to the hurricane. Some other recommended documents to take are:
Driver's license
Passport
Marriage Certificates
Financial information (bank account numbers, credit card information)
Medical records
And more…
Additional Recommended Hurricane Supplies
Whether evacuating or riding out the storm, you want to keep life as normal as possible when dealing with emergency weather. Having your daily personal hygiene products, contacts, extra clothes, and things to do while you wait will make the scary storm a little more manageable. Here are some things we recommend:
Hygienic products (dental care, soap, hand sanitizer, deodorant)
Prescription medications
Non-prescription medicine such as pain relievers or anti-diarrhea medication
Eyeglasses, contacts, and solution
Baby formula, bottles, diapers, wipes, and diaper rash cream
Pet food
Sleeping bag or blanket
Extra clothing
Feminine hygiene items
Books, games, puzzles, or other activities to keep everyone entertained
Maintaining Your Emergency Supplies Kit
Once your kit is assembled, you must maintain it so it's ready when you need it most. Keep canned food in a cool, dry place and replace expired items. Review your emergency supplies kit each year to ensure it's updated with your family's needs.
Where To Store Your Emergency Supplies Kit
Home: Have a designated location for your kit and ensure it is in an easy-to-reach place so you can quickly access it. Make sure everyone in your household is aware of the kit's location.
Work: If you are at work when disaster strikes, be prepared to be there for at least 24 hours. Your work kit should include food, water, and other necessities such as medicines and comfortable walking shoes.
Car: If stranded, have an emergency kit in your trunk.
Review Your Insurance Policy
Reviewing your home, windstorm, and flood insurance policies is a good idea when you update your emergency supplies kit. Each of these coverages protects other losses, so it's essential to understand what covers what and make adjustments where needed. At TGS Insurance, our agents can assist in policy adjustments and ensure you get the best coverage for the lowest rate. From over 35+ carriers, we will find coverage that fits your needs and, most importantly, your budget. With TGS Insurance, purchasing insurance is simple, stress-free, and affordable!
Having an emergency kit in place for when a disaster strikes can help keep yourself and members of your household safe and protected. You never know how long you will be without running water and electricity, so it's always a good idea to have one prepared should you need it.
Instant Home Insurance Quote
Recent Home Insurance Articles: