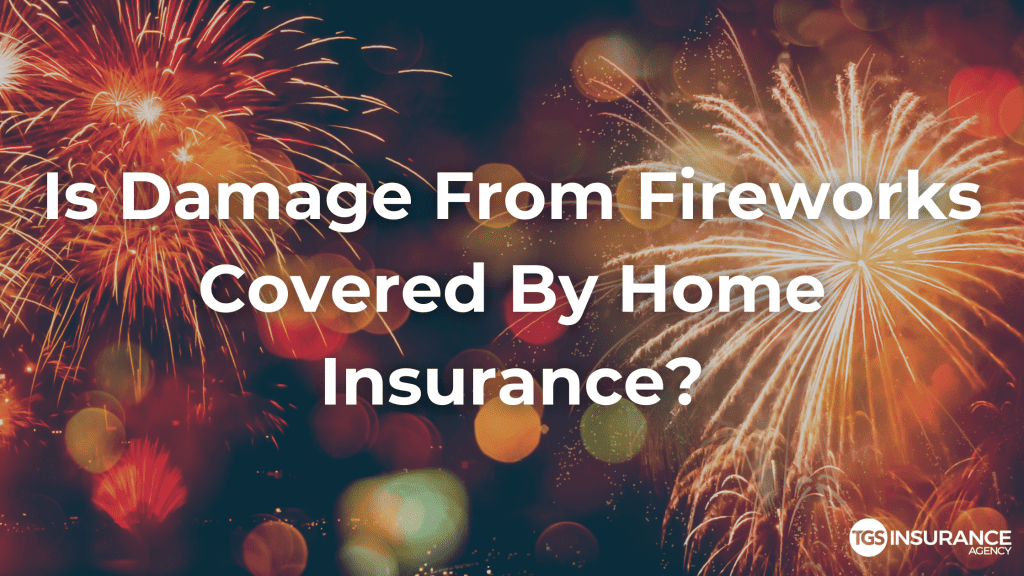 The Fourth of July is just around the corner, and it's typically one of the busiest days of the year for fires. According to the National Fire Protection Association, in 2018, fireworks started an estimated 19,500 fires, including 1,900 structure fires, 500 vehicle fires, and 17,000 outside and other types of fires. These fires resulted in five deaths, 46 civilian injuries, and $105 million in direct property damage.
With how destructive firework damage can be, you may be wondering if your home insurance policy extends its coverage for such loss. The answer is yes for the most part. There are limitations for when you wouldn't be protected, for example, if fireworks are illegal where you live or if you purposely caused injury or damage, then you would be liable for paying for the damages.
Does Home Insurance Cover Firework-Related Damages and Injuries?
Your home insurance policy will clearly list the damages it does and does not protect you for. Different policies cover different perils. If fireworks catch a tree on fire in your front yard that spreads to your home, your home insurance policy will protect you since it was accidental. Defective fireworks that lead to injuring a friend could be protected under your medical payments section of home insurance. Similarly, your liability coverage within your home policy would protect you if fireworks accidentally shot into your neighbor's house and shattered a window.
Now if you get into a roman candle war with your buddy, you may not be covered because the incident was intentional and could've been avoided. If you injure yourself while lighting fireworks, your home insurance probably won't protect you because you can't file a liability claim against yourself. Your health insurance would be effective in a situation like this.
How Much Does a Fire Insurance Claim Cost?
According to the Insurance Information Institute, homeowners claims related to fire and lightning are the costliest insurance claims to file. The average cost for a fire-related insurance claim costs about $79,785, where one and 350 insured homes have property damage claims related to fire.
What Types of Insurance Should I Get To Protect From Firework Damage?
With how costly fire insurance claims can be, your homeowners insurance policy might have coverage limitations. You may want to consider adding a dwelling fire policy endorsement to your current home insurance policy. This type of add-on provides protection against fire, smoke, explosions, and sometimes wind. This could give you peace of mind knowing that you have extra coverage should you experience a fire due to a firework accident.
Additionally, you may want to consider adding an umbrella liability policy to protect you in the event your personal liability coverage within your home policy reaches its limit. This coverage protects you and members of your family in situations that you could be liable for and may protect you in areas where your home policy doesn't cover.
Get in contact with an insurance agent from TGS Insurance. We specialize in finding each of our customers the best coverage for the lowest rate! Whether you need to increase your coverage limits on your current home insurance policy or add-on endorsements such as umbrella insurance, our agents can help you find the coverage you need so you can have contentment knowing you're protected in all aspects. Our goal is to provide you with an exceptional customer service experience to ensure all your insurance needs are taken care of. Buying insurance is seamless, hassle-free, and affordable when you work with TGS Insurance. Find out your home insurance quote in 15 seconds or less by entering your address here!
How to Practice Firework Safety
When handling fireworks, it's important that you are using them cautiously and safely. According to the National Safety Council, here are safety tips to follow when using fireworks:
Never allow young children to handle fireworks
Older children should only use fireworks under adult supervision
Never use fireworks while impaired by drugs or alcohol
Anyone using fireworks or standing nearby should wear protective eyewear
Never light fireworks indoors
Never hold lighted fireworks in your hands
Use fireworks away from people, houses, and flammable materials
Only light one firework device at a time and maintain a safe distance after lighting
Never point or throw fireworks at another person
Never ignite a firework device in a container
Do not try to re-light or handle malfunctioning fireworks
Keep a bucket of water nearby to fully extinguish fireworks that lead to a fire or don't go off
Never use illegal fireworks
With how beautiful fireworks can be, they are equally as dangerous. Be sure to check up on your home policy to see if you should add more coverage. Better yet, grab a blanket and a patch of lawn, kick back and let the professionals handle the fireworks show!