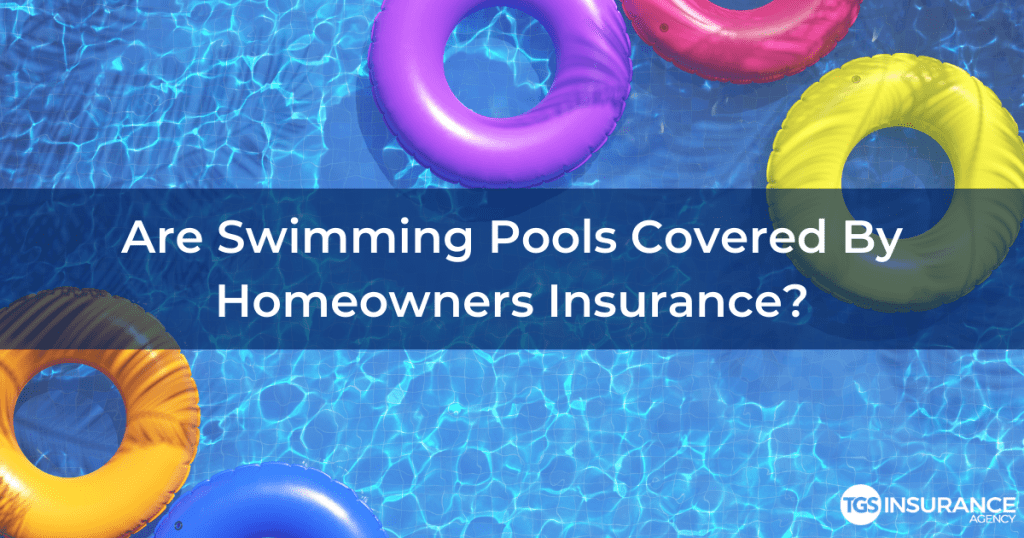 Having a pool is a necessity in the grueling heat of Texas summer and the perfect way to stay cool. You can relax on a float, work out with some laps or play games! However, it can be a liability, especially when insurance is involved. Known as an attractive nuisance in insurance, getting coverage for your swimming pool could take a little extra navigating. Below, we review the insurance requirements and answer the common question: are swimming pools covered by homeowners insurance?
Does My Homeowners Insurance Cover My Swimming Pool?
Yes, swimming pools are covered under your homeowners insurance! However, homeowners insurance will not always come with coverage for your swimming pool. It depends on the way your policy is written and the type of pool you have. There are many different coverage options that vary between insurance providers.
If you fail to disclose your swimming pool to your home insurance provider, a claim involving the pool will likely not be covered. In extreme situations, lack of disclosure can constitute fraud and in the state of Texas, the maximum sentence reaches all the way to 99 years in prison. Most homeowners won't face that harsh of a sentence, but may be stuck in legal battles for fraudulent activity.
How Is My Swimming Pool Covered?
Indoor Pool
An indoor pool is considered part of your home. Your provider may allow it to be listed on the standard homeowners insurance coverage. If a claim is made, it will be treated like any other part of your house.
In-ground Pool
Since the pool is not directly attached to your home, it can be covered under the other structures' category. These can also include fences, sheds and fountains. According to the Insurance Information Institute, your other structures' coverage limit is based on a percentage of your dwelling coverage– usually about 10%. So, if you have a $250,000 dwelling coverage, your insurance provider will provide coverage for the swimming pool up to $25,000.
Above-ground Outdoor Pool
This type of pool goes into the personal property category which can also be added to your homeowners policy. In most insurance policies, above-ground pools will have 50-75% dwelling coverage limits. Once a claim is made, the deductible amount will be deducted from your claim payment.
Related Reading: Your Homeowners Insurance Deductible Explained
Umbrella Pool Insurance
Once a homeowners' limit is reached, an umbrella policy can cater for claims that are made. If you have a swimming pool with a high liability risk profile, this extra level of protection is great. However, this does not provide coverage for accidents resulting in negligence or poor maintenance.
Does a Swimming Pool Increase Homeowners Insurance?
Yes, there will be an increase in your homeowners insurance if you add a swimming pool to your policy. Swimming pools can cause accidents that result in anything from minor injuries to death. Even if you aren't hosting a pool party, if a person- or an animal- gets into your backyard and gets hurt, or even drowns, you are liable. Insurance companies will raise the cost of your home insurance in order to protect themselves against these added risks. The increase is also determined by many other factors like:
Location of your home
Style, size and type of swimming pool
Location of the pool within the home
Risky features (drop-offs, steep steps, waterfalls, etc.)
Installing safety measures around your swimming pool can reduce your premium and can even reduce the number of accidents. Having a perimeter fence, non-slip surface, a pool cover, proper signage and a safety railing will bring the cost of your premium down. Making sure children are safe can also lead to better rates. As with any insurance, fewer or no claims will ultimately decrease your rates and can be used to request discounts.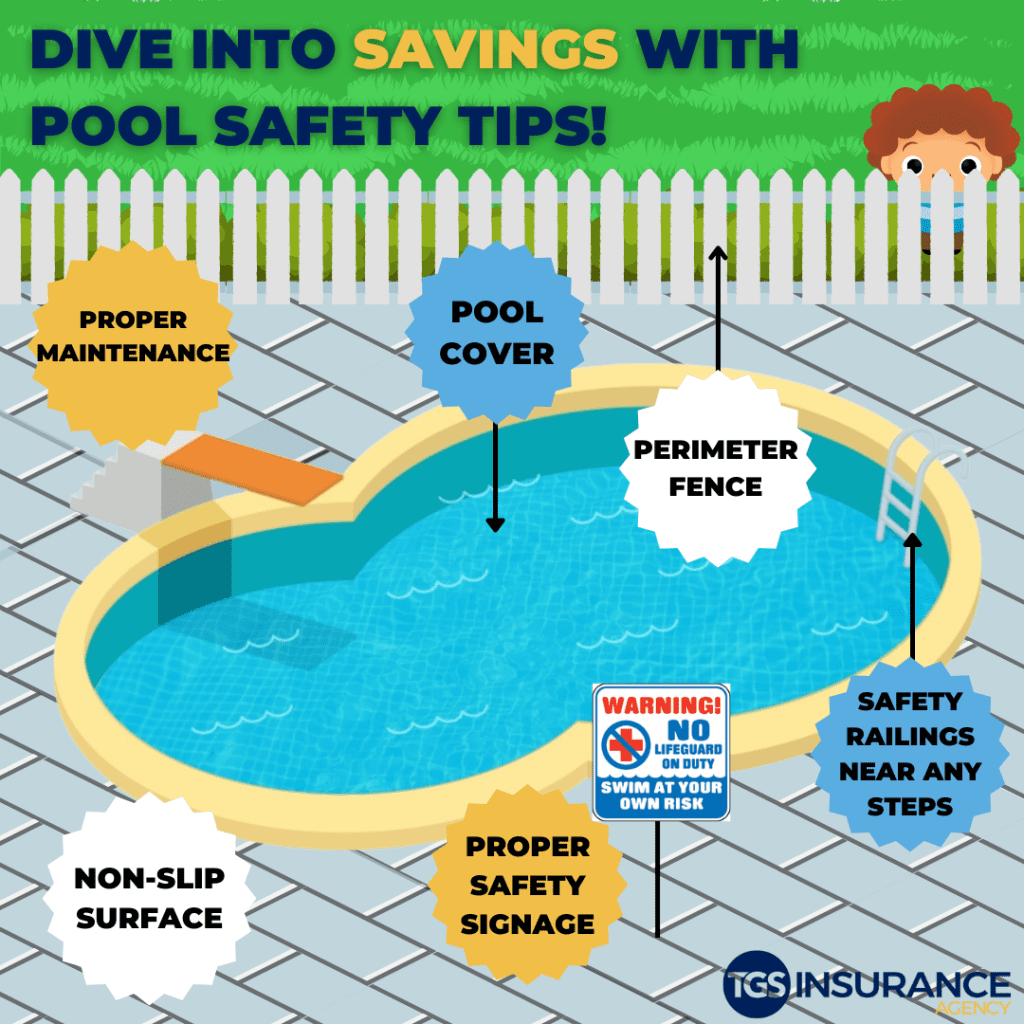 Swimming pools add value and enjoyment to your home, so don't miss out on these benefits just to avoid a hike in insurance premiums.
How Much Liability Do I Need With a Pool?
Your liability should cover all of your assets. You want to have coverage for any potential damages to your pool and injuries or lawsuits that can result from accidents in or around your pool. The liability risks your pool poses to your family are often larger than the standard liability coverage limits offered by most homeowners insurance policies. You should consider increasing your personal liability coverage in your policy, preferably to the maximum of $1 million.
Adding an umbrella policy is beneficial when your liability coverage does not cover all of your assets. Even if you max out your insurance on a claim, it may not be enough. Umbrella policies kick in when other forms of insurance (like homeowners) have been exhausted. Liability coverage and umbrella policies can be added to both in-ground and above-ground pools. 
Does Homeowner Insurance Cover Swimming Pool Damage?
Homeowner policies can cover damages to your home in the event of a covered peril. These perils can include:
Fire
Windstorm
Hail
Lightning
Vandalism
For example, if a windstorm swept through your town and a tree or other debris caused damage to the sides of your pool, you are likely to be eligible for coverage through the policy you have chosen for your pool. Be mindful that earthquakes are not covered under homeowners policies, so, if your pool deck cracks from a shift in the ground, you would have to cover the repairs. Poor maintenance is also not covered by your insurance provider. This means that if your pool liner is old or neglected and tears, you will also have to cover that cost on your own.
What Do I Need to Know Before Looking at Swimming Pool Insurance?
According to the Texas Department of Insurance, many homeowners policies provide minimal coverage to swimming pools. Here is what to think about when you review your insurance:
Is your pool value included in the replacement value of your home?
What are the limits that your policy will cover?
Does your coverage include landscaping and additional structures (decks, sheds, etc.)?
Is your pool up to standard to be covered?
If you have a diving board or slide, do you have liability coverage?
Navigating the world of homeowners policies can be a headache. Every policy is unique and you can customize it to fit your insurance needs. It's important to know what your policy covers in the unfortunate chance you need to file a claim. Making sure your pool is adequately secured can prevent major financial upsets and frustration. Have our team at TGS review your current policy to ensure it meets the specifics you need at the best price.
Instant Home Insurance Quote
Recent Homeowners Insurance Articles: