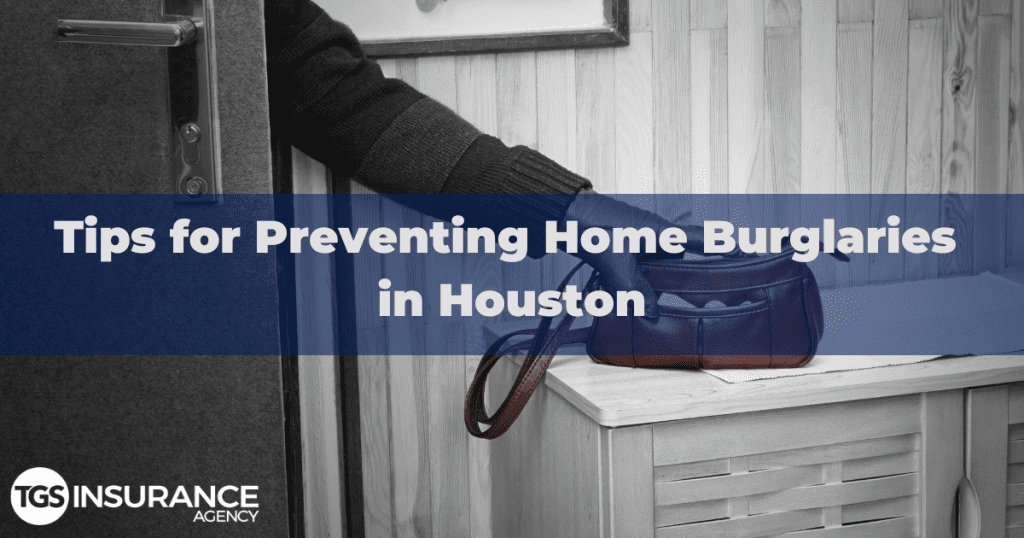 Protecting your home is important, and there's nothing quite like the impact than that of a home burglary. The FBI shows us that more than two burglaries happen every minute in the United States, and while it is not the leading cause of home insurance claims in the Houston area, it is within the top 5. There are plenty of resources that can help you in preventing home burglaries from occurring in your home and advice from local law enforcement, but who better than the actual criminal experts to help us decide what makes a home an easy target? The following information is based on the answers from real criminals and former criminals. For the full story from KHOU, you can check it out here, but for the highlights, take a look below.
Get to Know Your Neighbors
A busy neighborhood may deter a criminal from even walking down your street, let alone breaking into your home. The more eyes and ears on the streets and the activity that you see, the less likely you are to be a target of a would-be criminal. So, instead of sitting inside all day, take a little time to walk your block, do some gardening, catch up with the latest events going on in your area, and speak to your neighbors. You'll build a better friendship and protect your home in the process.
Big Dogs Are Likely a Deal Breaker
Though some criminals will stop at nothing, large, loud dogs are the one thing many thieves would love to avoid. For many criminals, a dog that was intimidating in stature and loud in its bark was the perfect protection and deterrent. Thieves aren't looking for a hassle, especially when that hassle can cause physical harm. Large, loud dogs that will protect their territory can help you avoid a home invasion.
Having Someone Home or at Least Appear to Be
A simple task thwarted many would-be robberies: answering the door. Most thieves would knock before attempting to enter, and if someone were home, they would simply ask if the homeowners had seen their dog or if they were at the wrong house. Cars in the driveway and televisions playing were also deterrents because thieves don't want a hassle. They are looking for an easy target.
What is the best time to become a victim? It may not be when you think. Hollywood has embedded in us that robberies are a string of nighttime capers, which would make sense due to the cover of night; however, nighttime also comes with people being home, and thieves don't want this. Mid-afternoon, 2 PM-4 PM, are prime times for a robbery to occur because people are likely away at school and work. Some thieves will even learn the daily routines of their targets, and weekdays are more susceptible due to the predictability of how they can be. Having someone home or at least staging your home to appear that someone is home can discourage many thieves from even attempting their crime.
Alarms Are Great, But Visibility is Better
Not only do many thieves ignore your alarm sign out front, but they may even know ways to disarm it. While a loud alarm can deter some, robberies don't have to take a very long time. So, while you put your faith in an alarm system or a camera, they rush through to grab electronics and cash. You can have signal failures, and crafty thieves can even create EMPs to disable your system before it becomes a problem.
On the other hand, highly visible homes were not where thieves wanted to be. A home with a sign out front but containing tons of foliage and hidden from street view entry points were prime targets. Especially those with large fences that would block visibility. An alarm system is still a great choice and can alert you during times of distress, but don't rely on it to keep you 100% secure. Keeping your yard in order and well-lit can do more for you than add extra curb appeal.
Home Insurance Helps Protect and Restore
Keeping your home protected is priority number one. Beyond the loss of property and damages, home invasions can rob you of your privacy and security. Having the right home insurance policy can help you rebuild and restore when you are at your most vulnerable. TGS Insurance helps homeowners save money every day on home insurance and can even bundle auto insurance for additional savings. Remember these tips and contact us today for a policy that is built to protect your home and save you money every month.
Instant Home Insurance Quote
Recent Home Insurance Articles: