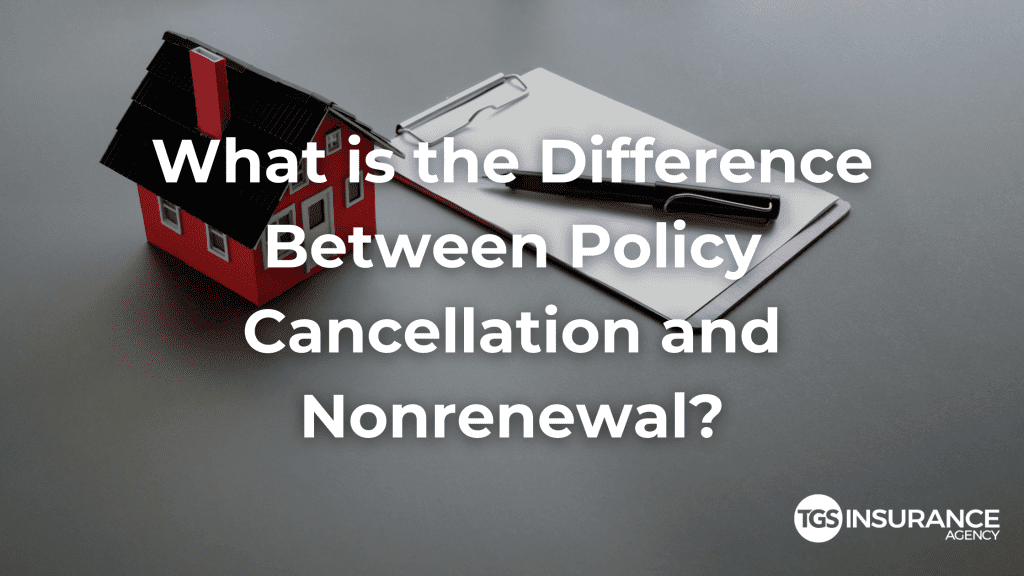 Every term, your insurance policy is up for renewal, and your carrier will make an offer to either renew your policy with a higher, lower, or the same rate for another term. However, there are instances when your insurance carrier does not renew, either by canceling or non-renewing your policy.
There are two distinct differences between a non-renewal and a canceled policy, so let's review the two.
Why Do Insurance Companies Cancel Policies?
An insurance cancellation is when either you or the insurance company cancels a policy before the end of the term. As the policyholder, you have the right to cancel your insurance coverage within your policy limits. But, the insurer can cancel the policy if:
You don't pay your premium
You committed insurance fraud or lied on your application
A bad inspection
Roof issues
Multiple claims
Not living in your home
Own an excluded pet (Ex. aggressive dog breed)
Poor credit score
Owning a trampoline or pool
There's a difference between cancellation and non-renew. When a policy is non-renewed, the insurance company has decided not to renew your policy when it expires, usually because of risk exposure. If your insurance company decides to cancel your policy or issue a non-renewal notice, you must be given a certain number of days before your policy is dropped.
How a Policy Cancellation or Non-Renew Affects You
Depending on why your policy was terminated, your ability to get a new policy may be affected. If your policy was canceled because of non-payment, you might have difficulty finding a new policy. Before binding a new policy, an insurance carrier will look into your insurance history. Similar to a loss history report or a credit report, your insurance history is a summary of every claim you've ever filed and any late payments, tickets, cancellations, non-renews, and other important variables. Your insurance history is recorded in the Comprehensive Loss Underwriting Exchange (CLUE) database.
If your policy was canceled because of you, the insured (ex. non-payment), a new potential carrier may not want to insure you or raise your premium because of the higher risk level. However, suppose your policy was non-renewed for reasons out of your control (ex., The carrier reducing risk exposure in a specific area). In that case, you likely won't have difficulty finding a new policy or have an increased premium.
What Should I Do if My Policy is Canceled or Non-Renewed?
If your policy is canceled or non-renewed, you'll want to seek a new policy immediately. You should shop your policy across multiple carriers if you get denied (if canceled), so you have numerous options.
Find Affordable Insurance Coverage with TGS Insurance
The easiest way to obtain a new insurance policy fast? Contact the experts at TGS Insurance! We work with over 35+ A-rated (or better) carriers and can find a policy for just about anyone, regardless of the risk level. The best part? Because of our large number of partnerships, we can provide our clients with the best policy the market has to provide in terms of both coverage and cost. We've got you covered from home, auto, boat, RV, flood, and more!
Don't wait, get your hassle-free (we mean it) quote today and see why over 15,000 people turn to TGS Insurance for their insurance needs.