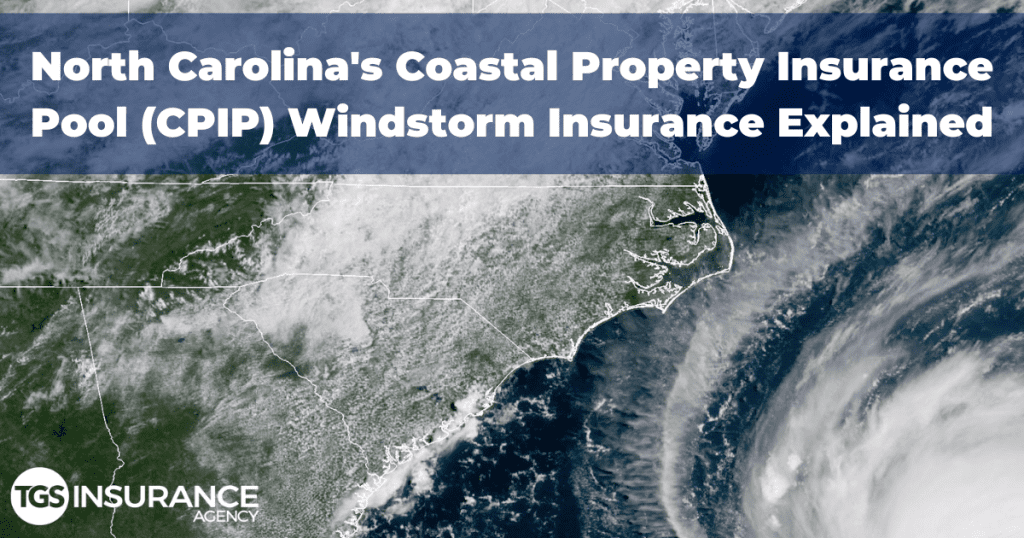 Hurricane season is approaching fast, and for North Carolina residents living near the coast, protecting their homes from potentially devastating winds is essential. But understanding how this windstorm insurance works is the first step to having the protection you need. The North Carolina Insurance Underwriting Association (NCIUA) has a program called Coastal Property Insurance Pool, CPIP, that offers different types of protection to anyone in the 18 eligible coastal counties of North Carolina.
Key Takeaways
The NCIUA created the Coastal Property Insurance Pool for homes in high-risk areas.
18 counties are eligible for this kind of insurance coverage.
Windstorm insurance is not typically covered in a standard home insurance policy.
What is The Coastal Property Insurance Pool?
Coastal Property Insurance Pool, CPIP, is a part of North Carolina's Fair Plan, created in 1969. Originally called the Beach Plan, this was a way for North Carolina to provide a market for essential property insurance. The main goal was to protect the economic safety of the residents on the beaches and coastal areas.
What Does CPIP Offer?
CPIP offers more than just windstorm insurance to those that are eligible. Multiple lines of property and casualty insurance are available. Here are some of the insurance products offered:
Dwelling Fire
Commercial Fire
Homeowner
Dwelling Windstorm and Hail
Homeowners Windstorm and Hail
Commercial Windstorm and Hail
Who is Eligible for CPIP Windstorm Insurance?
To obtain a windstorm policy from CPIP, you must live in one of the eligible 18 coastal counties in North Carolina. These are defined as beach areas by the state. Also, the policy requires the insured to have an active primary coverage policy provided by an admitted carrier in North Carolina that excludes windstorm.
The home must be in one of the following counties:
Beaufort
Brunswick
Camden
Carteret
Chowan
Craven
Currituck
Dare
Hyde
Jones
New Hanover
Onslow
Pamlico
Pasquotank
Pender
Perquimans
Tyrrell
Washington
If you fit the criteria, you can receive windstorm and other protections from the NCIUA to cover your home.
Why Would I Have to Get CPIP?
According to the state of North Carolina, CPIP is a last resort option for those in a high-risk area. Going to a private insurance provider is recommended initially. But, private insurers may deny you coverage. If that is your situation, CPIP is a great option. Your insurance agent can find you a policy in the standard market or the CPIP.
Does North Carolina Require Windstorm Insurance?
North Carolina does not require windstorm insurance. It is one of the few states that does not require residents even to have homeowners insurance. However, your mortgage companies may need you to have home insurance. Having windstorm insurance is essential because many high-risk counties are in danger of damage from windstorms (tornadoes, hurricanes, hail, etc.).
Calculating Your Rates With NCIUA
Insurance companies consider how much your premium will be by dissecting critical factors with the risk involved in insuring you. Homeowners analyzed to be at a higher risk will see a higher premium than those with a lower analyzed risk. NCIUA assesses a variety of traditional factors. These include your home's deductible, type of construction, amount of coverage you require, etc.
The idea is to maintain reasonable rates for everyone because CPIP is an opportunity for homeowners who are too high-risk and get denied coverage elsewhere.
Additional Windstorm Insurance Options for Homeowners
Homeowners that cannot find the right windstorm insurance may turn to NCIUA as the answer, and rightfully so, but other solutions are available. Here at TGS Insurance, we include windstorm coverage into every homeowner's policy we issue because we know the significance of this coverage, especially for homes on North Carolina's coast. We want to ensure that you are ready for whatever may come your way and can protect your homes from damaging wind and hail events.
North Carolina Windstorm Zone Map
Your mortgage company likely requires a windstorm policy if you live in any of these coastal counties.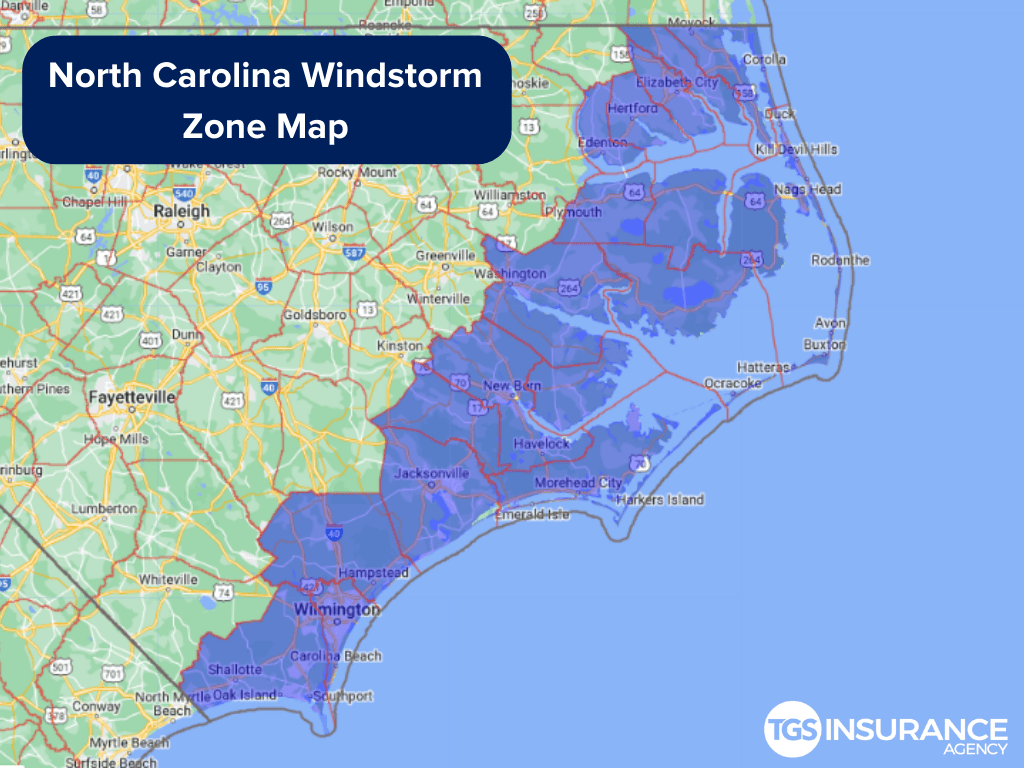 How to Get The Best Coverage With TGS Insurance Agency
Finding the best windstorm coverage for your home doesn't have to be a headache. To best keep your home adequately covered, it is advised that homeowners compare many different insurance brands. Hence, they receive the right home coverage while paying the best price. Of course, we realize this can be time-consuming, which is why we do it for you!
TGS Insurance will shop your insurance policies among private and government-backed insurers. We do the heavy lifting for you and will provide the best coverage option for your home at the lowest price on the market. Our impressive bank of over 55 A-rated or better insurance carriers provides us with a wide range of protection options for our clients.
Instant Home Insurance Quote
Recent Home Insurance Articles: