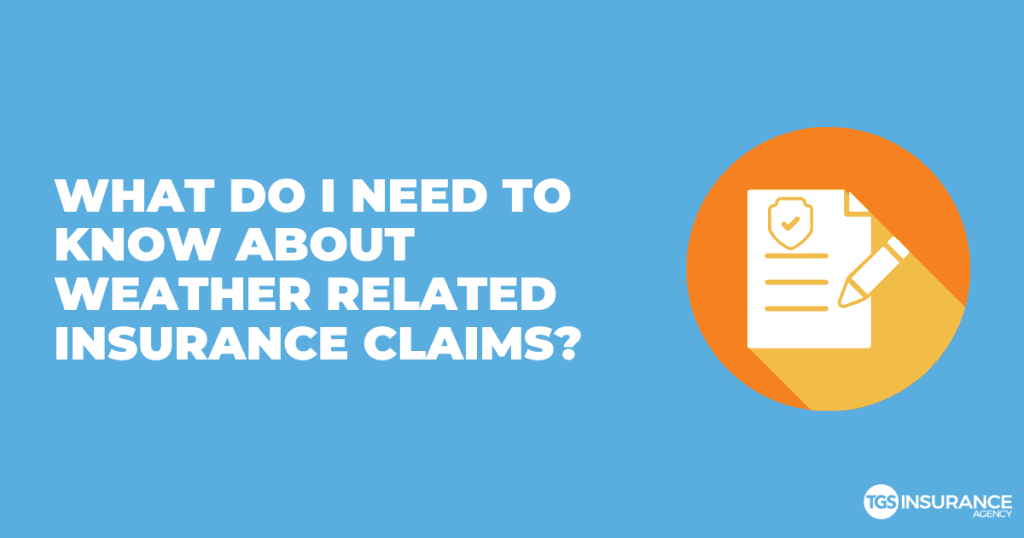 Whether you believe in climate change or not, it is undeniable that people in the United States have been experiencing an increasing number of weather-related disasters over the last few years. No one is immune from mother nature, from hurricanes to floods and wildfires, and people are becoming more intimately familiar with disaster claims, unfortunately. Let's review the top three things to keep in mind regarding insurance claims and weather-related events.
Multiple Deductibles
Many people don't realize that one major disaster, one storm, for example, can be classified as multiple events. That's important because most insurance companies require a separate deductible for each event. Those deductible costs can very quickly add up, which is why it's essential to consider the possibility of multiple events when deciding what the deductible on your policy should be. This is also something to consider when determining how much money to set aside for emergencies.
TGSI Tip: When setting your policy deductibles, ensure you can pay at least your deductible. If not, consider lowering it in exchange for a higher premium.
Claims Can Take A While
Another thing to consider when it comes to financial planning is that even though your insurance policy may cover the damage, it still might be a long time before you see that money. This notion is particularly true when it comes to catastrophe claims. Naturally, when a weather-related catastrophe occurs, multiple people are usually affected. That means that all those people will go and file insurance claims at roughly the same time. This can quickly cause insurers to become temporarily overloaded as they work through those claims.
You will still get paid, but it could mean that you may have to wait a few weeks or months longer than expected in many cases. Make sure to consider this when planning how much money to have in your emergency fund. You don't want to run out of funds before your claim comes in.
TGSI Tip: Check out our guide for filing an insurance claim. If you file your claim promptly and with few errors, you'll get your claim processed faster!
You're Probably Underinsured
We hate to be the bearers of bad news here, but you could be underinsured regarding storm damage. We say that because most people in the United States are underinsured for storm damage.
Amy Bach, executive director of United Policyholders, a consumer advocacy group in San Francisco, spoke with Insure.com about this issue. According to Bach, "…many homeowners are not able to rebuild after weather disasters because their policies weren't large enough to cover the costs…In United Policyholders' '2012 Colorado Wildfire One-Year Survey Results for the High Park and Woodland Heights Wildfire,' 54 percent of survey respondents reported being underinsured on their dwelling by an average of $101,000. I recommend that homeowners get at least two opinions about the replacement value of their home for purposes of setting adequate dwelling limits so they can make sure that their policies will cover the cost of rebuilding if disaster strikes. Be careful about relying 100 percent on the number set by your insurer."
TGSI Tip: You should always carry enough dwelling coverage to completely rebuild your home at today's costs, and never set your policy limit based on your home's value because you need to consider the cost of materials or labor. To calculate your dwelling coverage, multiply your home's square footage by the average price per square foot to build in your home's area.
The reality is that whether you take the time to insure yourself not or adequately, weather-related catastrophes will continue to happen, including an increase in weather related insurance claims. As these catastrophes continue to grow, you may likely experience something at some point. Take the time to properly insure yourself now so you're not scrambling later.
If you have any insurance questions or want to inquire about purchasing a new policy, talk to the TGS Insurance team! We are experts in the industry, and will work diligently with you to find the right policy for your needs and budget. Get your hassle-free quote now!
Source: Insurance.com
Instant Home Insurance Quote
Recent Home Insurance Articles: