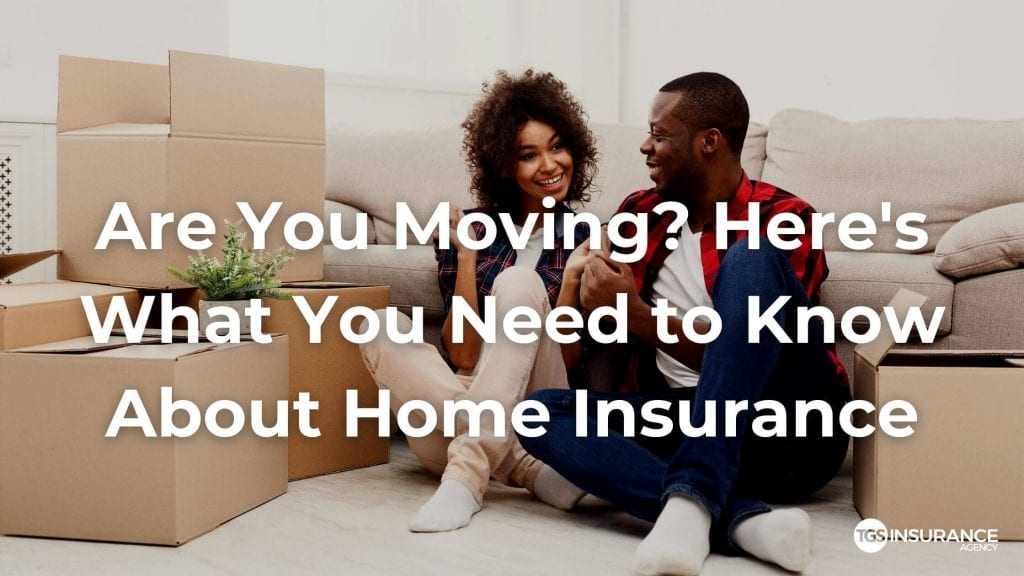 If you're moving, whether it be down the street or across the country, there is a lot to take care of. Coordinating move dates, hiring movers, dealing with all of the many pieces that come with obtaining a mortgage…it's a lot! With so many things happening at once, it can be easy to overlook things as you begin a new chapter in life. This is especially amplified for new homeowners who may feel overwhelmed by the complex process of purchasing a home.
Homeowners insurance is one of the important factors that may be overlooked if you're not careful. The last thing you'll want to do is leave yourself vulnerable to gaps in coverage due to your old home's policy lapsing or failing to retain home insurance for your new home causing a problem with your closing date. You'll also want to be sure to save as much money as possible when enrolling in home insurance for your new home as the cost of moving can really add up. Learn how to protect yourself, save money, and gain the coverage you need when making a move by reviewing these considerations.
Speak With an Insurance Agent Before You Move
The importance of speaking to an insurance agent cannot be understated. If you are purchasing a home, chances are you're going to be doing so through a mortgage. Most lenders will not provide you with a loan unless you secure at least minimal home insurance coverage and failing to do so can push back your closing date or cause you to miss out on the home altogether. Give your insurance agent at least a 30-day notice to make sure that there are no issues with your closing process or coverage.
Even if you are capable of purchasing your home without a mortgage, it is always recommended that you purchase home insurance to protect your finances in the event of a major loss. Let's review some of the important benefits you'll receive by speaking to your insurance agent when moving into a new home:
Understanding of Your Home Insurance Coverage, Deductible, and Limits
If you're a first-time homebuyer, you're likely not familiar with what exactly a home insurance policy is and how it will protect you as a homeowner. Your home insurance policy is there to protect your home, personal possessions, and yourself from several common perils you may face including weather-related events, theft, destruction of property, liability issues, and more. Take some time the most common form of home insurance, the HO-3 policy:
| | |
| --- | --- |
| HO-3 Coverage | What it Protects |
| Dwelling Coverage | Your home and any attached structures. |
| Other Structures Coverage | Detached structures such as a shed or fence. |
| Personal Property Coverage | Your personal property even when it is outside of your home. Note: policy limits do apply. |
| Loss of Use Coverage | This coverage protects your finances by paying for food and lodging should you become displaced from your home for a period of time after suffering a loss. |
| Personal Liability Coverage | Protection for you and the other members of your household for liability involving accidentally injuring another party or damaging another party's property. |
| Medical Payments to Others | A typical HO-3 home insurance policy will provide up to $5,000 to cover medical expenses should someone become injured while visiting your property. Note: this does not cover the medical expenses of your household. |
Your coverages will protect against named perils, which means they must be specifically named in your policy to be protected against. These are the most common named perils listed within an HO-3 policy:
Damage from aircrafts

Damage from vehicles

Damage from electrical currents

Explosions

Falling objects

Fire/lightning

Pipes freezing

Riot or civil commotion

Smoke

Theft

Vandalism/malicious mischief

Volcanic eruption

Water damage from plumbing, heating, or air conditioning

Water heater cracking, tearing, or burning

Weight of ice, snow, or sleet

Windstorm/hail damage
These perils are common issues you and your home may face over its lifetime, however, there are also other considerations you should discuss with your insurance agent to understand how your policy protects and reimburses you during a time of need:
The amount you pay for your deductible will affect how much you pay for your insurance and the amount you receive after filing a claim. Your deductible is the amount you'll be responsible for paying as a homeowner before your insurance company will reimburse you for your loss. Lower deductibles will mean that you pay more and vice versa.

Policy limits are important because if you have higher limits you'll receive more coverage but pay more in premium. Home insurance protects your valuables but only within your policy limits. This means that if you have items that exceed these limits due to their value, you'll need a policy endorsement to avoid coverage gaps or have to restore your loss out of pocket. Be aware of your policy limits and discuss an appropriate amount with your agent as it will likely change as a result of your move.
HO-3 policies all provide protection against named perils, but not all homeowners insurance policies are equal, and understanding your policy is important. For example, not every home insurance policy protects against windstorm and hail damage, but at TGS Insurance, we provide windstorm coverage automatically written into every policy we issue with a 2% deductible.
Avoid Lapses in Your Coverage
If you are moving from one home into another, you'll want to be aware of potential lapses in your coverage. This is because while you'll need to retain coverage over your current home and possessions, you'll also have to get a completely different home insurance policy for your new home. Different homes require different protections and no two homes are exactly alike, therefore, you'll have to purchase another policy when you move. Coordinating your coverage with your agent helps you avoid coverage gaps, lapses in coverage, and keeps you protected.
Gain a Better Assessment of Your Coverage Needs
Coverage needs are different for everyone for many different reasons and your insurance agent can help you through several scenarios:
Moving from a home to a condo or a townhouse? You might not need full home insurance coverage as your homeowners association (HOA) will likely cover this portion through fees. Condo insurance (HO-6 policy) or a contents-only coverage policy may be sufficient to protect you from liability and/or your personal possessions.
Are you looking to move into a rental? If so, renters insurance is the right coverage for your needs. Your renters insurance policy is an inexpensive protection that can help you restore your personal items and pay for living expenses in the event you suffer a loss.
Have your coverage needs changed? Well, you're moving, so, yes, they have! Remember, insurance companies will need to reassess the risk you pose as a client based on the characteristics of your new home. This will lead to a new home insurance policy. Discuss these changes with your home insurance agent to find the best coverage for your needs.
Purchase Protection From Your Moving Company
While moving companies can't sell insurance policies, there are protections available if you are using movers. Many moving companies offer some sort of coverage that will reimburse you should an item become damaged or lost but be sure to read the terms and conditions of such agreements beforehand.
Policy endorsements are changes to your home insurance policy that can help you increase your coverage and scheduled personal property coverage is a coverage you should consider. This policy endorsement can provide your valuables with protection in ways your home insurance policy does not traditionally accommodate. This coverage is a viable solution for you if you are moving without the assistance of a professional moving company.
TGS Insurance Helps Your Move With Confidence
Here at TGS Insurance, we help you move by taking the stress of finding home insurance off of your plate. Time and time again, we deliver our clients the best rates for the coverage they need by applying discounts through bundling, and comparison shopping coverages among our lineup of 35+ A-rated or better insurance carriers.
Our dedication to excellent customer service includes working with your mortgage company to ensure that everything is in order giving you less to worry about. We work hard to keep you insured for less as you begin this new chapter of your life. In only 15 seconds or less, you could save $870 per year on average when compared to other insurance agencies. Discover how much you can save on home insurance using only your address!
Instant Home Insurance Quote
Recent Home Insurance Articles: