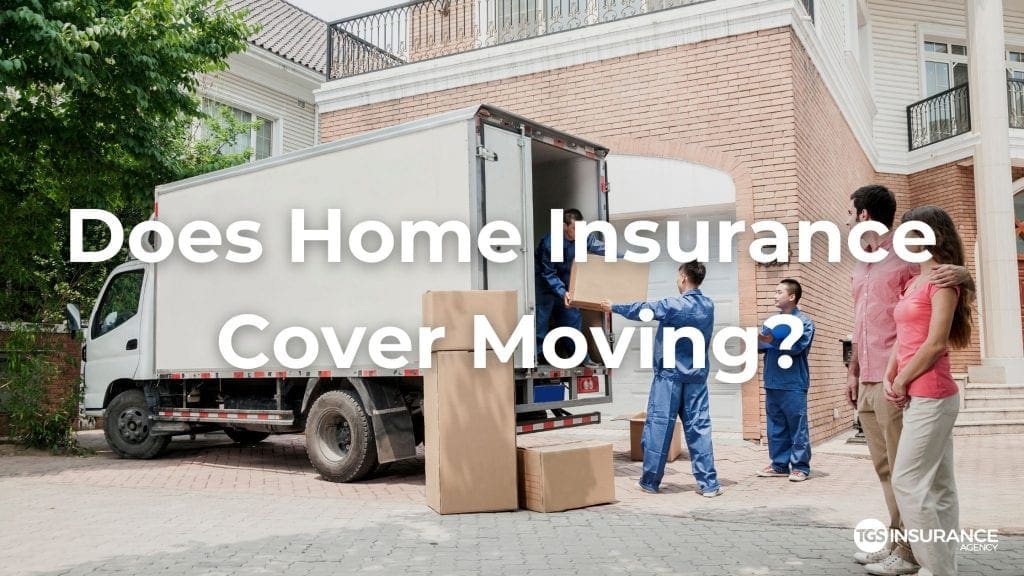 The short answer is that it depends on your coverage but many home insurance policies do not cover damage to your possessions or theft while moving. You'll need to speak with your insurance agent to best understand your policy. There are, however, moving insurance policies that can help you avoid gaps in coverage or pick up where your home insurance policy lets off to avoid coverage gaps.
If you are looking to protect your personal belongings while moving, you'll need to understand how your home insurance policy works. While there are many events your home insurance policy will cover, including theft or accidental damage from a covered peril, moving can complicate things. Each policy is different and understanding how your home insurance policy protects you and your belongings is important. Speak with your agent to better understand the following:
| | |
| --- | --- |
| Home Insurance Consideration | What You Need to Know |
| Your policy's limits | The amount of coverage you have for your personal belongings will vary from home to home. You'll need to understand how much you are protected for and may need to purchase a policy endorsement such as scheduled personal property coverage to further protect expensive items such as art, luxury clothing, firearms, etc. |
| Damaged and stolen items | If an item is damaged while in the process of moving it is unlikely to be covered by your home insurance policy but there are different conditions for each policy. Stolen items are usually covered by your policy but for damaged possessions, you'll need another form of coverage such as scheduled personal property coverage or moving insurance. |
| The terms and conditions of your policy | Staying covered while moving can be tricky. This is why you need to understand if, how, and when your belongings are covered by your policy. Is it only while in transit? Are your valuables covered at all and if so, which perils are they protected from? These are great starting points to better understanding your coverage. |
It is also important to remember that your deductible will play a role in the amount of reimbursement you'll receive should you need to submit a claim. Your deductible must be paid by you, the homeowner before compensation is delivered by your insurer. Again, we can't stress how important speaking with an agent is during times like these. Moving is tricky and home insurance can be a complex subject. Your agent is there to help!
Moving Insurance Can Protect Your Belongings
If your home insurance policy does not cover your possessions while moving, your moving company should be able to provide you with protection. Their coverages are different and while technically, it is illegal for a moving company to sell you "insurance policies", many do offer their own form of protection which will reimburse you in the event things go astray. Be sure to read the terms and conditions of such deals before signing on for protection to understand how you will be compensated if an item is lost or damaged.
Be Sure to Maintain Your Home Insurance Coverage During a Move
Avoiding lapses in coverage is important when you're moving and timing is important. You'll want to stay protected at your current home while also protecting your new home from day one. This is why communication is key. Be sure to speak with your insurance agent at least 30 to 60 days in advance to ensure a smooth transition.
Home insurance is not mandatory in the state of Texas but it is typically a term and condition of most mortgage lenders. This means that without it, you'll not only miss your closing date but you'll also be unable to purchase the property at all. This can cost you thousands of dollars and is nothing compared to the hassle of searching for a home all over again. We always recommend home insurance for this reason and because dealing with restoring a major loss or rebuilding your home completely on your own is a financial burden. Stay protected and let your agent handle the hassle for you when it comes to maintaining your coverage.
Will Your Home Insurance Premium Go Up? It Depends
Each home is different. From its location to the building materials used, the factors that go into determining your home's value and the risk of insuring it will be unique to the home itself. If you are going to move then you are going to need to purchase a new homeowners insurance policy to stay protected and depending on a variety of factors, you could end up paying more.
At the end of the day, homeowners insurance companies use different factors such as your home's age, its location, the amount of coverage you require, etc., to ultimately assess one thing: risk. If you carry more risk as a homeowner, you'll have a higher home insurance premium, while if you are less risky to insure as a client, you'll enjoy lower rates. Though many companies will assess the same factors to assess the amount of risk you pose, each brand will weigh these risks differently and use its own algorithms to do so. This means that you'll receive a different home insurance premium among different brands even as your home's variables remain the same.
Here at TGS Insurance, we believe moving is a great opportunity for you to find the best coverage for your needs at the cheapest price on the market. We help clients reassess their needs and receive coverage for less because we approach home insurance differently. By comparing your coverage among a variety of home insurance brands while identifying discounts that are specific to your qualifications and bundling, we consistently deliver the coverage needed to protect your assets while saving you money in the process!
Will I Need Homeowners Insurance If I'm Buying a Townhouse or Condo?
Single-family homes are the most common homes purchased in America but if you're purchasing a townhome or a condo, you'll still need insurance. The type of insurance you need will usually come down to whether or not your home is a part of a homeowners association (HOA) or not. If you are in an HOA, you will likely only need either condo insurance, an HO-6 policy, or contents-only coverage to protect your personal possessions and against liability while your HOA fees will cover your home insurance policy. Every situation is different and every need is different. Speaking with a TGS Insurance agent can help you remain covered with the right policies for your needs.
Moving Into a Rental? Stay Covered With Renters Insurance
If you're looking to make a move into a rental, don't worry, we've still got you covered! Your landlord will be responsible for home insurance to protect your home's structure, however, you'll still need to protect your personal possessions. Renters insurance is an affordable coverage option that can cover your valuables and even provide reimbursement for food and lodging similar to a loss of use coverage should you become displaced from your home due to a covered loss. Policy endorsements are also available if you are moving your things on your own or with the help of friends.
Let TGS Insurance Do the Heavy Lifting During Your Move
You have enough to worry about while moving, so let TGS Insurance handle your home insurance policy. Our agents work to provide you with a smooth transition and coordinate your coverage with your mortgage lender. By comparing your rate among our roster of 35+ A-rated or better home insurance carriers, we identify the best coverage for the lowest cost on the market. We'll maximize your discounts and review your policy annually. If you are to receive an increase in your home insurance, your agent will re-shop your coverage and ensure that you never overpay for coverage again. In just 15 seconds or less, you can receive a quote for your home insurance coverage, policies that help our clients save an average of $870 per year! See how much you can save on home insurance today!