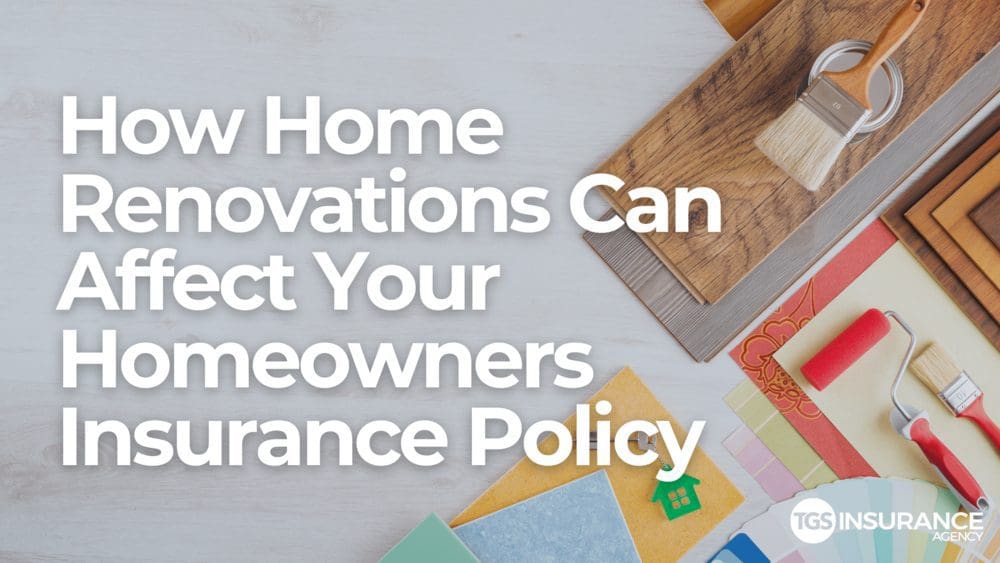 Whether you've stepped foot into a new home and are looking to give it a fresh face or you're looking to update your current one, home renovation projects are more popular than ever before thanks to HGTV, Pinterest, and even TikTok. According to a 2020 Consumer Survey from Farmers Insurance, 64% of people completed some sort of home improvement project while staying home over the past few months and 62% are planning a home renovation or maintenance project as a result of spending more time at home.
But before you start your newest project, it might behoove you to know that home renovations can impact your home insurance policy. Whether you're taking on a major renovation or just a minor one, it's important to understand how it can influence your homeowners insurance coverage.
How Does a Home Renovation Affect My Homeowners Insurance?
Home renovations can range from giving your kitchen some more modern updates to adding a completely new room to your home. No matter what type of project it is, you're likely adding to the value of your home. You're also adding to the amount of dwelling or personal property coverage you would need in the event you have to rebuild.
For example, if you upgraded your kitchen and did a complete overhaul that included top-of-the-line appliances, new cabinets, and marble countertops, you are adding to the value of your home. Therefore your current dwelling or personal property coverage may not be enough to cover all of the updates you did should a disastrous event occur, leaving you financially exposed to cover the rest of the bill because the rebuild costs would likely surpass your current coverage limits.
Before you get started on your home renovations, talk with your insurance agent to see what updates you may need to make to your coverage on your home insurance policy.
Talking points you should talk to your your insurance agent about before you remodel your home:
The cost to rebuild your home- If your home remodeling project raises the cost to rebuild your home, then you may need to ask your insurance agent to increase your dwelling coverage.
The cost to replace your personal belongings- If you added expensive appliances or decorated your home from bottom to top, you might want to speak with your insurance agent about increasing your personal property coverage limits.
Do I Need to Inform My Insurance Provider For All of My Remodeling Projects?
A general rule of thumb to follow is: If your remodeling project would significantly increase the price to rebuild your home after damage, then you should contact your insurance company. If you do some minor renovations like upgrading your flooring from tile to porcelain wood or repainting some walls, then it's a good chance it won't likely increase your rebuilding costs. But it never hurts to ask your agent just to make sure.
Does Homeowners Insurance Cover Home Renovation?
Informing your insurance provider about your home remodeling project and modifying your coverage limits isn't the only reason to get in contact with them, you should also ask if the remodeling process itself is covered. There are a variety of scenarios where your home remodels may or may not be protected by your homeowners insurance policy.
Some providers even require you to notify them about any additions and renovations sometimes 30 days before construction starts. Some will even charge you more for not telling them about your renovation project. For example, if you have to file a claim in the middle of the construction and you don't notify them, they could impose a 5% construction deductible, which means you will have to pay more out of pocket before your provider starts paying for the damages.
If your home is deemed "under construction"
Your standard homeowners insurance policy excludes coverage for theft to your home that is under construction along with materials and supplies used for your rebuild. Your coverage won't be effective until your home is finished and you are living in it again. This is why it is so important to communicate with your insurance provider about your home renovation projects because your definition of "construction" may be different from theirs.
For example, if you're adding a room to your home, and someone steals equipment or personal belongings from your property, you may not be covered for those losses because your carrier deemed your home "under construction." This is mostly because it's easy for thieves to break into a construction site making it a hotspot for arson, theft, and vandalism.
Before the home renovations start, contact your insurance provider to see if you need to purchase a specific coverage that protects your home while it's being remodeled. Many insurance providers offer builders risk insurance coverage or dwelling under construction coverage that you can add to your policy during the duration of your remodel.
If you're taking on a DIY project
If you plan on tackling a home renovation by yourself, or a friend or family member is helping you, you'll want to look over your personal liability and medical payments coverage within your homeowners insurance policy. Do-it-yourself home renovations, open up a can of worms for a potential lawsuit if your friend or family member gets injured while on the job.
While it is rare that your friend or family member will sue you for an accidental injury during the course of your home renovations, they may need help with paying for medical expenses if they are injured. That's when your medical payments coverage comes in handy. If a guest gets injured on your property, they can file a claim through your insurance provider and will be reimbursed for medical payments like copays and deductibles. Typically, the standard homeowners insurance policy has up to $5,000 in medical payments coverage.
If your home is vacant
If your home remodeling makes your home uninhabitable and you have to live somewhere else temporarily, you may want to consider vacant or unoccupied homeowners insurance. This is because your homeowners insurance policy will not cover perils like vandalism if your home has been unoccupied for more than 60 continuing days before the damage. Most insurance providers offer vacant or unoccupied homeowners insurance, but you may want to pause your standard homeowners insurance policy while your vacant homeowners insurance is effective. Once you move back into your home, you'll want to resume your standard homeowners insurance policy.
If your remodeling work is defective or damaged
Your homeowners insurance policy includes coverage for home structural collapses if the damage resulted from faulty materials or methods in the construction, remodeling, or renovations if the collapse happened in the middle of the project.
For example, if your second-story room add-on collapses during construction and is only halfway completed, then the clean-up and repairs may be covered by your homeowners insurance policy.
Validate your contractor's insurance
If you decide to hire a contractor to make your home renovations come to life, you'll want to ask them for a copy of their insurance. Verifying that they have the proper coverage will help you have peace of mind knowing that all aspects of your home renovation project are financially protected. Your contractor's insurance should consist of commercial liability and worker's compensation insurance to cover the wages of workers who are hurt on the job. Without this, you could be liable for any injuries or accidents.
What If My Renovation Project Was Completed Without the Proper Permits?
If the contractor you hired failed to get the proper permits for your home renovation, there could be severe consequences. For instance, if your renovation was done without a permit and was not up to the fire or local building codes, a city inspector could shut down your home remodeling project. Even if construction is completed, the inspector may need you to tear it down and start all over again.
Not having the proper permits can also lead to home insurance inconveniences. The standard homeowners insurance policy does not include problems related to an "ordinance of the law," such as destroying and rebuilding a home remodel to meet the standard local building and fire codes. This means that you will have to pay for the rebuild and repairs out of pocket because your homeowners insurance will not cover the costs for new materials and additional labor. That is why it is always important to work with contractors that have the proper permits and insurance to renovate your home.
Home Renovation Insurance Discounts
After your home renovations are completed, you may qualify to get a discount on your homeowners insurance policy. Some insurance providers offer home renovation discounts that require you to have upgraded plumbing, wiring, and heating in a home that is 20 to 25 years old or older. To be qualified for the discount, your upgrades and improvements must be up to code. Some insurance providers require that the work was done by a certified contractor that has the proper license and insurance.
Stay Protected With TGS Insurance Agency
With more homeowners having renovation fever, it is important that you communicate with your insurance provider to ensure you have everything you need to complete your renovations the right way. Regardless if you are taking on a massive or minor home renovation project, you need to understand how your project will influence your home insurance premium and make adjustments where they're needed. This will help you avoid an insurance headache and make sure you get everything done right the first time around.
If you need help adjusting your coverage limits on your homeowners insurance policy or if you're interested in adding builders risk insurance to your policy, the agents of TGS Insurance are here to help! At TGS Insurance, we specialize in finding our customers the best possible rate while still keeping the coverage they need and want. Our customer service team will handle the whole process from start to finish so you can have a stress-free insurance buying experience. Purchasing insurance can be simple with TGS Insurance!
Instant Home Insurance Quote
Recent Home Insurance Articles: