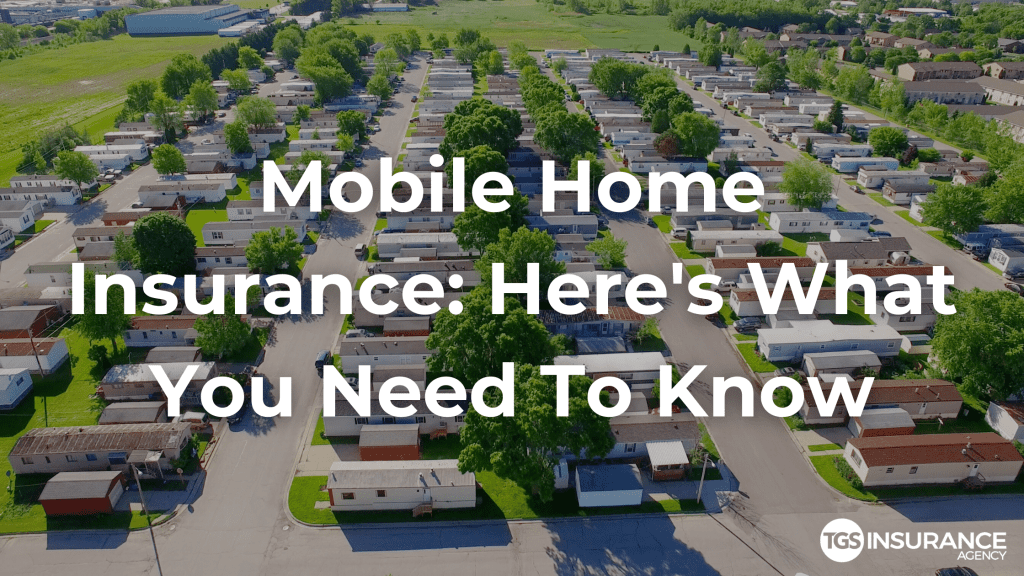 What is Mobile Home Insurance? 
Mobile home insurance also called an HO-7 policy, is a type of insurance meant to cover a mobile or manufactured home. It functions similarly to a homeowners insurance policy offering different levels of insurance coverage depending on what you need.
Learn more about the basics of mobile home insurance and how it works to protect you and your home.
What Does Mobile Home Insurance Cover? 
Mobile home insurance offers coverage for:
Dwelling coverage offers protection for the physical structure of your home and any other permanent structures on the property listed in your policy, like a deck, garage, or shed. 
Personal property coverage includes protection for your personal belongings. 
Liability coverage protects you if someone gets hurt on your property, and you or a member of your household are legally liable. Liability coverage may also cover legal fees or medical bills up to your policy's limits. 
Loss of use coverage or additional living expenses (ALE) coverage will cover any temporary living arrangements and food bills if your home is deemed unlivable due to a loss and you need to stay elsewhere while repairs are being made. 
Manufactured homeowners can also purchase what's called a "peril policy," which is a type of insurance that offers its policyholders a low premium but high risk. Peril policies provide minimal coverage, so you would be financially liable for any damages that occurred from a peril not included in your policy.
What Does Mobile Home Insurance NOT Cover? 
Depending on your carrier, there are some exclusions for mobile home insurance policies. If you're seeking a specific type of coverage, you may need to purchase separate policies or endorsements. And depending on your location, some perils may be flat-out excluded. Common exclusions include:
In-transit damage
Earthquake insurance
Flood insurance
Hurricane windstorm insurance
How Much Does Mobile Home Insurance Cost? 
The average mobile home insurance policy costs anywhere from $300 to $2,000 a year depending on several factors, including:
Where you live
Deductibles
Additional policy endorsements (Ex. earthquake, flood, and windstorm/hail)
Policy limits
Weather risks (Ex. hurricanes, tornadoes, etc.)
Age, condition, and value of your manufactured or mobile home
The crime rate in your area
Wildfire risks
Proximity to fire department or police department
What's The Difference Between Home Insurance and Mobile Home Insurance? 
Mobile home insurance and home insurance are, in essence, the same type of insurance except for the major structural dwelling differences in which each policy covers. Mobile homes tend to pose more risks because they aren't attached to any foundation, are more susceptible to fire, wind, or broken pipes, and sometimes are a higher target for theft or vandalism. However, mobile homes tend to hold less value than traditionally built homes; therefore, that alone helps offset any risk-related insurance costs.
Though subtle, these significant differences between a standard and mobile home are why mobile homes are insured entirely different from a constructed house.
How Can I Save Money on My Mobile Home Insurance? 
There are a few ways you can save on your policy. First, some insurance carriers may offer you discounts for installing home security cameras or security systems. Other discounts besides security upgrades include: 
Bundling your mobile home policy with another policy such as auto
Retirement and/or senior discounts
Being the original titleholder 
Be sure to talk to your insurance agent about what discounts are available to you!
Some mobile homeowners opt to buy a peril policy instead of an all-encompassing comprehensive mobile home insurance policy. While this may help you save on your premium month to month, should something happen to your home, you may not be covered or have enough coverage to help should you ever need to file a claim. Just keep risk over reward in mind when purchasing your policy!
The last thing (and most important) that you can do to save on your mobile home insurance policy is to shop your policy around with different carriers. It's best to get a quote from at least 5 to 7 carriers to see the best deal on the market. However, this can be a time-intensive process, and sometimes homeowners don't always know if they're getting the best deal. At TGS Insurance, we can help. Get your hassle-free (we mean it) mobile home insurance quote today! We'll shop your policy across our bank of 35+ A-rated (or better) insurance providers to find you a policy that's perfectly balanced for the coverage you need at a rate that doesn't break the bank. 
Do I Buy Mobile Home Insurance For My Modular Home? 
Though similar, a modular home is different than a mobile home, and in most cases, you'll need a standard home insurance policy to cover your modular home.
Is Mobile Home Insurance Required By Law? 
Mobile homeowners are not required to have insurance by law, but it may be needed if you need to finance your mortgage or plan to live at a mobile home park. It's highly recommended to carry a basic mobile home insurance policy even if you don't need one because the cost to make any repairs or replacements to your home financially outweigh the risk of not having a policy at all.
TGS Insurance Can Help You Save Real Money
Shopping for mobile home insurance is easy with the experts at TGS Insurance. We don't believe anyone should have to sacrifice the coverage they need just to save. That's why we shop your policy through 35+ carriers to find you an incredible mobile home policy that strikes the perfect balance between coverage and price. Our team handles all the paperwork from A to Z for the easiest buying experience ever! Don't wait, get your hassle-free quote now and see why over 15,000 Texans trust us for all their insurance needs. 
And because we don't like to brag, we'll let our customers do that for us. Check out our near-perfect ratings on TrustPilot and Google!