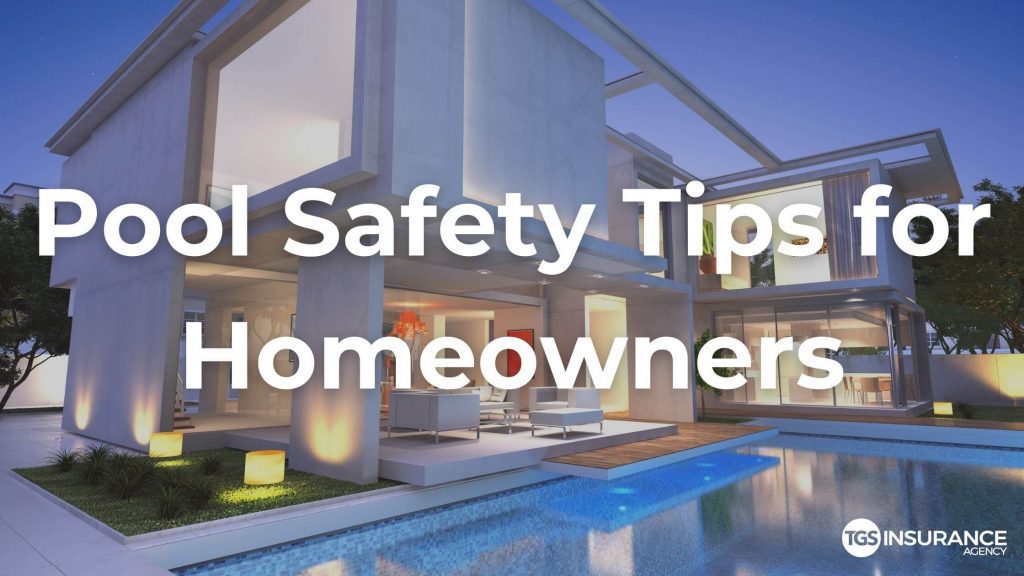 Nothing quite says summer like making a splash in a swimming pool. Social hubs, recreational centers, centerpieces, and much more, our pools are fun places to gather no matter the occasion. But in the insurance world, swimming pools are nothing more than attractive nuisances. This is because your pool can provide as much danger and liability as it can provide fun. Swimming pools deserve our respect due to the risks they present. The risk of injury or death is real but there are plenty of ways for you to enjoy your oasis responsibly. So, before you grab your goggles, be sure to review these pool safety tips.
Lessons Save Lives
When guided by a professional, children can begin swimming lessons as young as six months old! This is important because teaching babies to use their instincts and beginner techniques can help them survive should the unimaginable occur. Furthermore, children who are instructed at a younger age on how to swim can develop stronger skills sooner which may save their own life or the lives of someone else.
Nobody wants to think of the worst-case scenario but it is important to be prepared for such events. This is why learning CPR is a critical skill not only for swimming but for life in general. The Red Cross offers CPR lessons both in-person and online. You'll earn certification and a life-saving skill that you may just need one day.
Preventative Measures Can Keep Your Loved Ones Safe
According to the CDC, children between the ages of one and four tragically have the highest drowning rates than anyone else. Curious children can find themselves in unwelcomed circumstances when there is uninhibited access to swimming pools. Again, this is why homeowners insurance companies tend to be wary of swimming pools because of the risks they pose.
Even if your children are strong swimmers for their age, you need to keep everyone safe by blocking access with a fence or gate. These features not only help save the lives of your children and others that may visit your home, but they can also prevent pets from the same unlucky fate and limit other risky behaviors around your pool.
Adult Supervision is Important Around Swimming Pools
You're going to need a responsible adult around your swimming pool when it's in use. The key here is responsible, which means, an adult that also follows proper pool safety. Another temptation for adults is to become preoccupied. There are many distractions you might focus on such as completing chores, watching television, or using your smartphone. But drowning can happen in an instance and your response time is everything. Keep your focus on children if they are swimming and be prepared to assist if necessary.
Avoid Risky Actions While Swimming
Jumping from the trampoline or roof into your pool may seem like a fun idea at the time, but the results can be life-changing or even deadly. Each year, hundreds of people are injured from diving in too shallow of water which can even cause paralysis. Nine feet is the shallowest water depth recommended for diving and entering a pool should always be conducted at its designated area. Take a closer look at some of the other risky actions you should avoid while taking a dip:
Never swim near drains as they can pull you to the bottom and cause you to drown.
Alcohol intoxication and swimming never mix. Stay sober and vigilant while swimming.
Large floatation devices that are not meant for pool environments can cause injuries or drowning and should stay in larger bodies of water such as lakes or oceans
Water conducts electricity which means that you should be mindful of power cords, electronics, and lightning while enjoying your pool.
Supervision is always recommended for children, and adults should also be mindful of their swimming habits, especially if they are going to swim underwater. Dry drowning and secondary drowning can occur long after swimming. When water causes your vocal cords to spasm but fails to reach your lungs, your airway becomes constricted. This is known as dry drowning. Secondary drowning, however, is where water in your lungs irritates their lining causing fluid. After the fluid builds up, a condition known as pulmonary edema makes it difficult to breathe which can get worse over the next 24 hours if not treated. Though rare, knowing the signs of dry drowning can help you save yourself or another.
Always Disclose Your Pool to Your Home Insurance Provider
Not disclosing your swimming pool to your home insurance provider can constitute fraud and in the state of Texas, the maximum sentence reaches an astounding 99 years in prison! While you may not face the maximum amount of time, homeowners can still find themselves in legal battles for committing fraud and even have their coverage voided.
If your home insurance policy is voided because of failure to disclose your pool and you suffer a loss, you'll be stuck paying for the damages on your own. Including the medical bills of someone who injures themselves while swimming in your pool. Always communicate to your insurance provider about pools and other changes such as trampolines or major renovations to your home.
Home Insurance is an Important Protection for Pool Owners
Owning a pool can be a great time but protecting yourself and others with these helpful safety tips is crucial. Having the right home insurance policy is also important for any homeowner, but even more so for those with a swimming pool. Here are some ways your home insurance policy will provide coverage for your pool:
It will help you restore physical losses due to named perils that happen to your home and other structures such as your pool.

You'll receive liability protection from legal and medical bills should an accident occur in your pool while someone is visiting your home.

You won't have to face financial hardship alone when a named peril causes a loss.
At TGS Insurance, we understand that homeowners with pools have unique coverage challenges and still want to keep their bills low. This is why we shop each of our clients' home insurance policies through our bank of more than 35 top-rated insurance brands. This allows us to find the right coverage for your needs without overpaying.
We'll even help you find the best discounts and bundles for your insurance needs to lower your bill. From start to finish, we make the entire enrollment process smooth sailing so you can have peace of mind knowing you're taken care of. Should you face an increase a year later, we will review your coverage needs and re-shop your rate yet again, so that you never overpay for protection as long as you're a client. Get started today and see how much money you can save on home insurance with TGS Insurance!