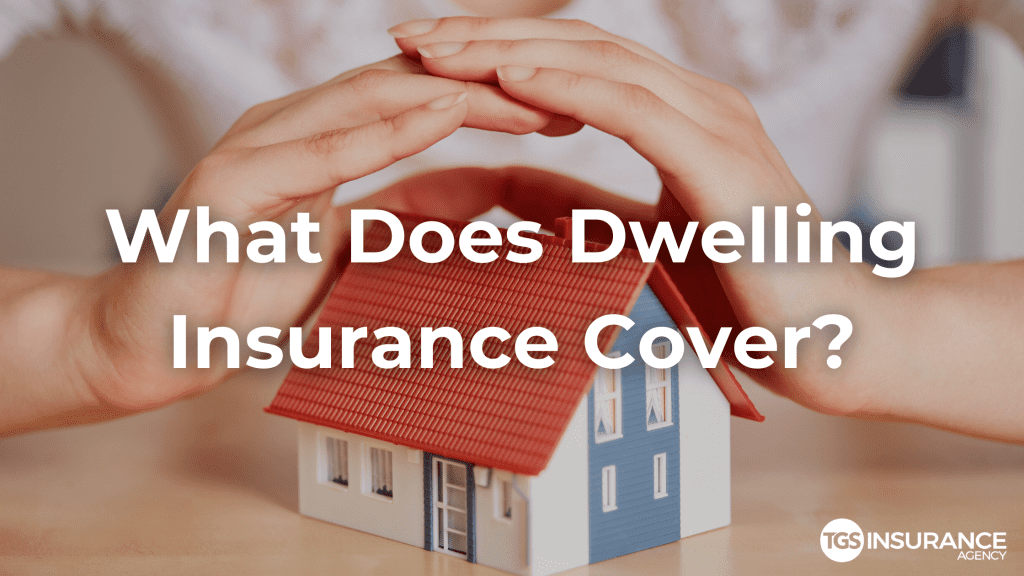 Dwelling insurance, or sometimes commonly referred to as dwelling coverage or Coverage A, is a piece of your homeowners insurance policy that financially protects the physical structure of your home should it be damaged by a covered peril. Let's review what dwelling insurance is and how it works to protect you.
What Does Dwelling Insurance Cover?
The standard homeowners insurance policy will cover a range of disasters from hail to tornadoes. It's important to note, covered perils vary by carrier so if you're concerned about a specific peril, be sure to check your homeowners policy or ask your insurance agent about coverage. The most common perils covered under your homeowners insurance policy are:
Damage from aircraft
Damage from vehicle
Damage from the weight of ice, sleet, or snow
Explosions
Falling objects
Fire/smoke
Hail
Lightning
Theft
Vandalism
Windstorms
Keep a close eye on what your policy does and does not cover. If your policy does not specifically exclude a peril, then it may be covered, on the flip side, if a policy does not explicitly state that a peril is covered, you may not have protection. An unfortunate misconception is that earthquakes and flooding are covered by home insurance- and neither of which are. To have full protection against either of these perils, you'll need a separate earthquake or flood insurance policy. These policies are crucial if you live in an area where these are common natural disasters.
What Does Dwelling Insurance Not Cover?
As stated previously floods and earthquakes are not covered by homeowners insurance therefore homeowners seeking that type of protection will need to purchase separate policies. In the U.S., earthquake insurance is about $800 per year, and flood insurance is $958 per year- but what you pay depends on geography, deductibles, and what coverage options you want. Other things not covered under dwelling insurance/home insurance are:
Earthquakes
Flood
General wear and tear to your home
Sewer backup
What is Protected Under Dwelling Coverage? 
Dwelling coverage applies to anything that is physically attached to your house. Examples include an attached garage, porch, or deck- as long as it's attached to your home it's protected under the dwelling portion of your home insurance policy. Things such as detached garages, fences, or sheds are protected under "other structures coverage" or Coverage B in your home insurance policy.
What Are My Dwelling Insurance Limits and Deductibles?
When you're purchasing your home insurance policy, you'll choose what your dwelling coverage limit is and what deductible you want. Your limit is the max amount the insurance carrier will payout for a covered loss. It's imperative that you choose a limit that takes into consideration the rebuilding costs for your home, not what it's valued at. The reason being should your home be destroyed and needs to be rebuilt, any costs outside of your dwelling coverage limits would be on you to make up. For example, your home is destroyed and will cost $300,000 to rebuild, but your dwelling coverage limit is $250,000. You'd be on the hook for that additional $50,000. Your insurance agent can help you determine what amount of dwelling coverage you need.
Your deductible is the amount you pay before insurance kicks in and helps with the bill. For example, your home takes on some hail damage and it's going to cost $5,000 to repair. Your deductible is $3,000, which means insurance will step in and help after you've already paid out $3,000 for that claim. Remember, the higher the deductible, the lower the premium and vice versa.
TGSI Tip: If you're looking to save on your monthly premium, consider raising your deductible. You should never lower your home insurance coverage to help make your home insurance premium more wallet-friendly. Talk to a TGS Insurance agent for help finding a home insurance policy that works for your budget and coverage needs.
Get The Right Dwelling Coverage With TGS Insurance
At TGS Insurance, we want each customer to feel confident that their home insurance policy is perfectly crafted to fit all of their coverage needs for any situation. Through our market of 35+ carriers, we're able to find the best deal for our clients, without ever sacrificing coverage. Get started today with your hassle-free quote and see why over 15,000 Texans are insured through TGS Insurance. From home, auto, flood, boat, renters, and more- we insure it all!
Source: Allstate