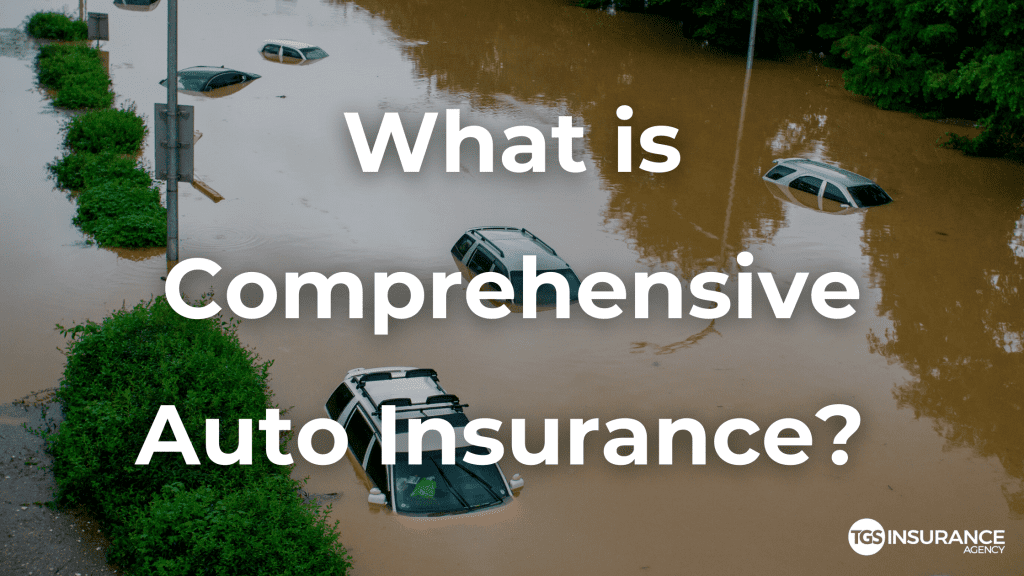 Auto insurance is meant to protect you financially should an accident occur. Plain and simple! But, not all auto insurance policies are created equal, which is why it's imperative for any driver to fully understand what coverages they do and don't have. Comprehensive insurance is a form of auto insurance protection that will help compensate you should your vehicle need to be replaced or repaired due to an event that's not a collision. Comprehensive coverage isn't always standard with everyone's auto policy, though you may want to consider adding it.
Let's review what comprehensive coverage is and how it works to protect you.
How is Comprehensive Coverage Different Than Collision Coverage?
Comprehensive coverage is different from collision coverage because it offers protection for damage caused to your car that occurred by something other than a wreck. Examples include a falling object, flood, fire, other natural hazards, or vandalism. Collision coverage assists with repairs when you hit another vehicle, object, or road hazard.
Neither of these coverages are required by law because both collision and comprehensive coverages can be used if your own vehicle sustains damage. However, it's worth noting that if you have a car loan, you may be required to carry both on your auto policy during the duration of your loan.
How Much Does Comprehensive Coverage Cost?
What you pay for comprehensive coverage varies and is based on two things: your vehicle's value and what deductible you choose, so rates will vary for each driver.
Collision coverage tends to be more expensive than comprehensive coverage, sometimes up to 3X higher premiums, however, both rely on the value of your vehicle. But, most insurance companies will offer drivers both as a packaged deal. Both types of protection require you to pay a deductible before insurance will step in and help with the bill.
The best way to choose a deductible is to see how much rainy day cash you have available. If something were to happen to your vehicle, do you have the funds to pay for the $500, $1,000, or $1,500 deductible? Typically, the higher the deductible, the lower the monthly premium and vice versa.
TGSI Tip: Remember, the insurance company will have a max amount they'll payout in the event of a claim, which is usually the actual cash value of your vehicle. Actual cash value is how much your car is worth plus depreciation. So if you were to total your car and want to purchase a newer model, you'd have to make up the cash difference to do so.
Should I Buy Comprehensive Coverage?
Everyone needs auto insurance, but just how much is based on each person's individual needs and other factors. It's easy to get caught up in wanting all sorts of coverage options to keep yourself financially protected, but some drivers can be overinsured, and pay for insurance they don't actually need. So ask yourself a few questions before you decide to buy comprehensive coverage.
What's The Value of My Vehicle?
The insurance company will only pay for your vehicle's worth at the time it's damaged. So if your comprehensive and collision coverage exceeds 10% of your car's vehicle, it may not be necessary to carry the extra coverage.
What Are My Driving Habits?
How often are you in your car? Do you drive a lot? How far is your commute? This question boils down to how often you are driving. The more you drive, the higher the risk of you getting into an accident or sustaining damage to your vehicle.
Where Do I Live?
Depending on where you live, comprehensive coverage may be a smart choice for you, especially if you live in an area that has a high crime rate or is susceptible to natural disasters (ex. Hurricanes or tornadoes). For example, if you live in Houston, Texas where flooding is a real threat, comprehensive coverage makes sense.
But the most important question is…
What is My Current Financial Situation?
If your vehicle was damaged or totaled, do you have the money to pay for the repairs or replace it entirely? If not, comprehensive AND collision coverage are must-haves to avoid a financial headache.
Should I Get Comprehensive Coverage?
Comprehensive coverage is a smart choice if you cannot afford repairs or to replace your vehicle outright should something happen to it. This type of coverage is a great investment for the unexpected.
Get Properly Covered With TGS Insurance 
About 1 in 8 drivers are underinsured, some of which aren't carrying enough coverage or are sacrificing coverage for cost. At TGS Insurance, you never have to overpay for the coverage you need. We shop your auto policy through our bank of 35+ A-rated (or better) carriers to find you the best deal on auto insurance the market has to offer. Get your hassle-free auto insurance quote today and see why over 15,000 Texans are insured with TGS Insurance!