Major auto insurance companies like Allstate, Geico, Liberty Mutual, State Farm, USAA, Chubb and others are giving back money or providing discounts for their customers during the COVID-19 pandemic.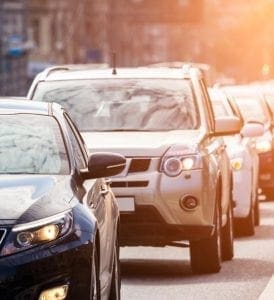 There's been a noticeable decrease in the number of cars on the road due to the COVID-19 pandemic. As auto insurers have begun to realize this, some have started refunding their customers.
State Farm, the nation's leading auto insurance company, stated that it would offer its customers about a 25 percent refund on their premiums "paid between March 20 and May 31." This refund from State Farm will give back $2 billion to its customers to 40 million vehicles.
Chubb Auto Insurance agreed to provide a 35% bonus cutback for April and May and will hand out extra concessions over the next months. Allstate and Liberty Mutual are distributing a 15% compensation on their auto insurance policy. GEICO stated they will offer a 15% credit as insurance policies begin their renewal process from not through October. American Family has agreed to give back a $50 one-time compensation per insured vehicle.
Farmers Insurance and 21st Century Insurance are offering their policyholders a 25% discount for April. USAA declared a 20% credit for policyholders for two months. Progressive revealed a 20% credit for April and May.
The refunds and discounts provide an opportunity for auto policyholders to reach out to their insurance provider to see how they can help them out during this time of crisis. 
"You've got that leverage," said Robert Hunter, director of insurance at the Consumer Federation of America. "They want to hold onto their customers, they've got to treat them right."
The conversation doesn't need to be hard, stated Hunter, noting that the prices are usually determined when the world is not in a pandemic.
Customers can emphasize to their insurance provider that most insurers are offering some sort of discount or credit for their policyholders. They can remind them that there is a decrease in drivers on the road, which results in the less likelihood of there being an accident. Hunter said that this can help justify a lower rate. Consumers can say something along the lines of "your risk is way lower, so my premium I paid is too high," Hunter said. Another tactic "Could be to at least ask for an adjustment in the amount of mileage that's factored into a premium," he added.
At the start of the coronavirus pandemic, Hunter wrote letters to different states' insurance commissioners pushing to lower premiums to help out during these stressful times.
There is a strong possibility that other insurance providers will offer some type of discount with their auto policyholders, stated Penny Gusner, senior consumer analyst at CarLinsurance.com, a website that analyzes car prices.
"Now that a few of the bigger companies are offering money-back, during a time when many really could really use it, it may be bad optics to resist," she said in a statement. 
It might be a smart choice to look around to see the different options for auto insurance, but don't cancel out their current insurance policy, Gusner said. Often states punish drivers who have a registered vehicle that is not insurance and most companies can charge a lapse in premiums," she added.
Not all insurance companies are providing refunds or discounts at the moment some might be offering extra bonuses like extending grace periods or removing late fees.
Traffic and accidents have significantly decreased as the country is forced to be in quarantine, which has forced companies to make their employees work from home. Traveling and vacations have lowered for "three straight weeks" according to Inrix, a traffic data analytics organization. Traveling movement in the country has declined 47% in comparison to traveling in February.
State Farm's promotion added to that decline. "We insure more cars than anyone and we see from our claims activity people are driving less. This dividend is one of the ways we're working to help our customers during this unprecedented situation," said Michael Tipsord, chairman, president and CEO of State Farm Mutual Automobile Insurance Company.
Source: MarketWatch