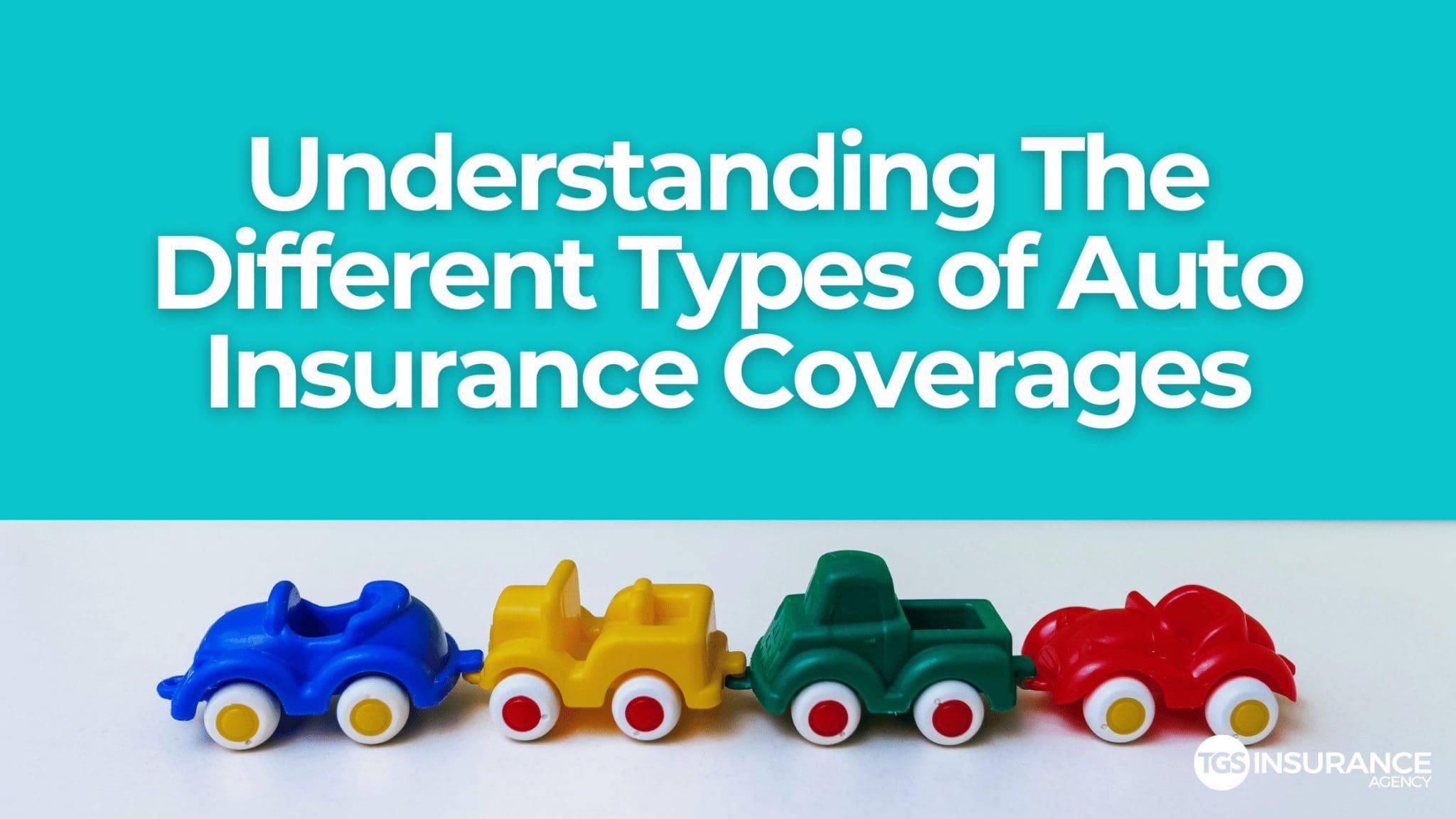 Drivers have plenty of options available to them when it comes to insuring themselves and their automobiles. A lot can happen when you stop to think about it. Whether you are on the road or not, property damage and bodily injury, drivers fleeing the scene…there are tons of scenarios that could end up costing you thousands of dollars if you are not properly protected. But with coverage options comes a bit of confusion, an overload if you will. How can you be sure that you are protected according to your needs and what does each protection bring to the table? TGS Insurance is here to help you navigate the world of auto insurance so that you can navigate the road with confidence, knowing that you and your automobile are protected. Learn more about the tremendous coverage options available to motorists and which each auto insurance coverage provides to you in terms of protection.
Liability Coverage
It is important to start with liability because it is the only coverage that is unavoidable. In virtually every state, including Texas, drivers are required by law to carry a minimum of liability coverage. Failure to do so will put drivers at risk of becoming liable themselves and will have them expose themselves and their assets to the obligation of paying to restore bodily injury, property damage, and even legal fees.
There are two important types of liability coverages that drivers will need. Bodily Injury Liability helps protect drivers who are at fault in an accident and injure another driver. This is important because, without this coverage, medical bills would be the responsibility of the driver solely. The second type of liability coverage is called Property Damage Liability and it protects drivers who are at fault in an accident and must restore another driver's personal property (i.e. their vehicle). As both medical costs and repairs continue to rise in cost, liability coverage is more than just a good idea for staying legal, but a great way to protect your finances from untimely expenses.
Failing to protect yourself with liability coverage comes with many drawbacks. Of course, we've already mentioned the costs associated with both medical bills and repairs, but there are additional costs including legal costs and fines that drivers could be exposed to should they fail to carry liability coverage. Auto insurance provides an avenue to restore health and property but without it, you could find yourself being sued by the other driver and forced to pay legal fees on top of everything else. There are also tickets and fines should you be pulled over by a police officer or involved in a wreck for failure to maintain at least the minimum legal coverage in your state.
Drivers in Texas are required to remain covered with a specific amount of liability coverages to avoid fines, liability, and other issues should they become involved in an accident or pulled over by a policeman:
$30,000 in Bodily Injury Liability coverage per person

$60,000 in Bodily Injury Liability coverage per accident

$25,000 in Property Damage Liability coverage per accident
Known as the 30/60/25 liability limits, these guidelines are mandatory when driving and enrolling with an auto insurance company; however, depending on your coverage needs, you may need to add larger limits. There are also many more auto insurance coverage options that will keep you protected on the road. Liability coverage is a great start but it doesn't protect drivers from everything. Let's continue as we explore additional coverage options drivers can add to their policies and if you need coverage, TGS Insurance is here to help.
Collision Coverage
Liability coverage protects your financial interests but it restores what is lost to another party. To restore what is lost to your vehicle, you'll need collision coverage. This form of auto insurance will protect your vehicle in the event it is damaged by another driver's vehicle, damaged by a foreign object, or were to suffer damage from being flipped. In Texas, drivers can even make claims regarding damage from annoying potholes.
Collision insurance is auto insurance that works whether or not you are at fault, so you are always protected from the perils you might face with this policy. A major difference between liability and collision is that collision insurance comes with a deductible. The most popular amounts are $500 or $1,000 but it is important to note that the deductible you choose will affect how much you pay for your car insurance premium. The higher your deductible, the lower you can expect your auto insurance premium to be.
According to the Insurance Information Institute (III), the average claim for drivers using collision coverage was $3,750 in 2019. More than 70% of drivers purchase collision coverage and with evidence pointing to an increase in costs and frequency of automobile accidents, it is easy to see why.
Comprehensive Coverage
Getting into an accident is what usually comes to mind when you think about damage to your vehicle and the need for auto insurance, but your automobile faces many other challenges than staying protected from a wreck. Comprehensive coverage is car insurance that is there for you when your vehicle is damaged from an event that is not a wreck with a vehicle or an object. Some examples include:
Natural disasters such as windstorm/hail, and flood damage

Hitting or being hit by a wild animal such as a deer

Fires and damage from falling objects such as a tree

Theft, vandalism, and riots/disturbances which cause damage to your vehicle
Drivers who enroll in comprehensive coverage are protected from many of the things we may overlook on a day-to-day basis but can still occur. Your comprehensive coverage helps you stay prepared should you face a surprising peril. Similar to collision coverage, comprehensive coverage comes with a deductible for drivers. This could be as low as $100 or as much as $2,500. Some policies can be even higher, depending on the type of deductible and policy you wish to pursue. Remember, the higher your deductible, the lower your car insurance bill will be. The average claim involving comprehensive coverage in 2019 was $1,780 and over 70% of motorists hold this coverage.
Medical Payments or Personal Injury Protection (PIP) Coverage
Injuries can be an unfortunate result of an accident and paying for the medical bills you may face after a wreck can feel like a slap in the face on top of everything else you are dealing with. Having PIP helps you pay for the medical costs that you or your passengers will need to pay after an accident. Your coverage can help pay for a variety of things including medical bills, restore wages lost due to injury, and if needed, funeral expenses. Though Texas does not require PIP coverage, some states do.
Uninsured and Underinsured Motorist Coverage
All of the previous auto insurance coverages protect against a range of perils, but if you are hit by a driver that either: 1. Doesn't have liability insurance or 2. Is underinsured to cover all that you have lost…you may find yourself in an uncomfortable position. You could sue and hope that justice is served, but they may be unable to pay and you still will add legal fees to worry about on top of everything else. There are also hit-and-run situations in which you may not be able to find the responsible party or even if you do, it could take a while before things are settled. Uninsured and underinsured motorist coverage helps you offset these perils by protecting against them. With 682,000 hit-and-run accidents occurring every year, drivers must remain diligent by protecting themselves against these perils. Texas ranks 16th with 14.1% of drivers driving uninsured, according to the III.
Additional Auto Insurance Coverage Options
There are even more coverage options available to drivers with more specific needs. Some companies may carry them, while others may not as they are geared more towards niche markets and needs. Different states also have varying allowances for different auto insurance coverage options. Speaking with your insurance agent can help you best understand what auto insurance coverages you need and what is offered by your carrier and state.
Accident Forgiveness
Every driver is looking for ways to save money and with accident forgiveness insurance, you don't have to stress over your rates going up because you are involved in an accident. Of course, not every company offers these types of policies nor do all states allow them. Furthermore, the way each brand handles accident forgiveness can vary from providing discounts after a qualifying period has passed without an accident to keeping your rates at the same rate despite an accident. Accident forgiveness is also not a free-for-all. Auto insurance companies do have limits and reserve the right to withdraw your policy should you become involved in too many accidents.
Gap Insurance
If you owe on your car and were to get into a wreck bad enough to "total" your vehicle, gap insurance is an additional coverage option that will help pay for the difference between what you still owe and the actual cash value (ACV) of the vehicle. This applies to both vehicles you may own or a vehicle you are leasing. Gap insurance protects you best if you owe more money than your vehicle is currently worth.
Rideshare Insurance
Popular ridesharing apps have become a large part of our lives over the last few years, but drivers may be surprised to know that participating in these intriguing side hustles may put them at risk in terms of auto insurance. Your auto insurance policy is unlikely to cover you in a variety of scenarios while using your vehicle for work. The company you are working for may offer some coverages, however, there are still lapses in coverage that may occur depending on your activity and the company you are driving/delivering for. To stay better protected while ridesharing, it is always advised that drivers purchase a rideshare insurance policy that is crafted specifically for this activity. To learn more about ridesharing and the coverage you may need when working for one of these companies, click here.
TGS Insurance Finds the Right Auto Coverages for Your Needs
Being overinsured can leave you paying expensive premiums every month. Going without auto insurance or with too little coverage can come back to bite you and cost thousands of dollars when you consider what it costs to restore personal property, legal fees, and medical expenses. The best thing drivers can do is to analyze their coverage needs, search for discounts, compare their auto insurance coverage rates among multiple brands within their market, and enroll.

Seriously, who has time for that?

We do! 
At TGS Insurance, we help drivers find the exact coverages they need without breaking the bank or sacrificing the coverages you need. Our expert agents work for you and can craft an auto insurance policy that protects what you need while saving money on premium each month. We can even find discounts you may qualify for as well as bundle your home insurance with your auto policy for even more savings. By comparison shopping among 35+ A-rated or better auto insurance carriers, we can quickly provide drivers with the best available coverage for the lowest price on the market for their vehicles. Contact us and begin saving more for your auto insurance coverage today!