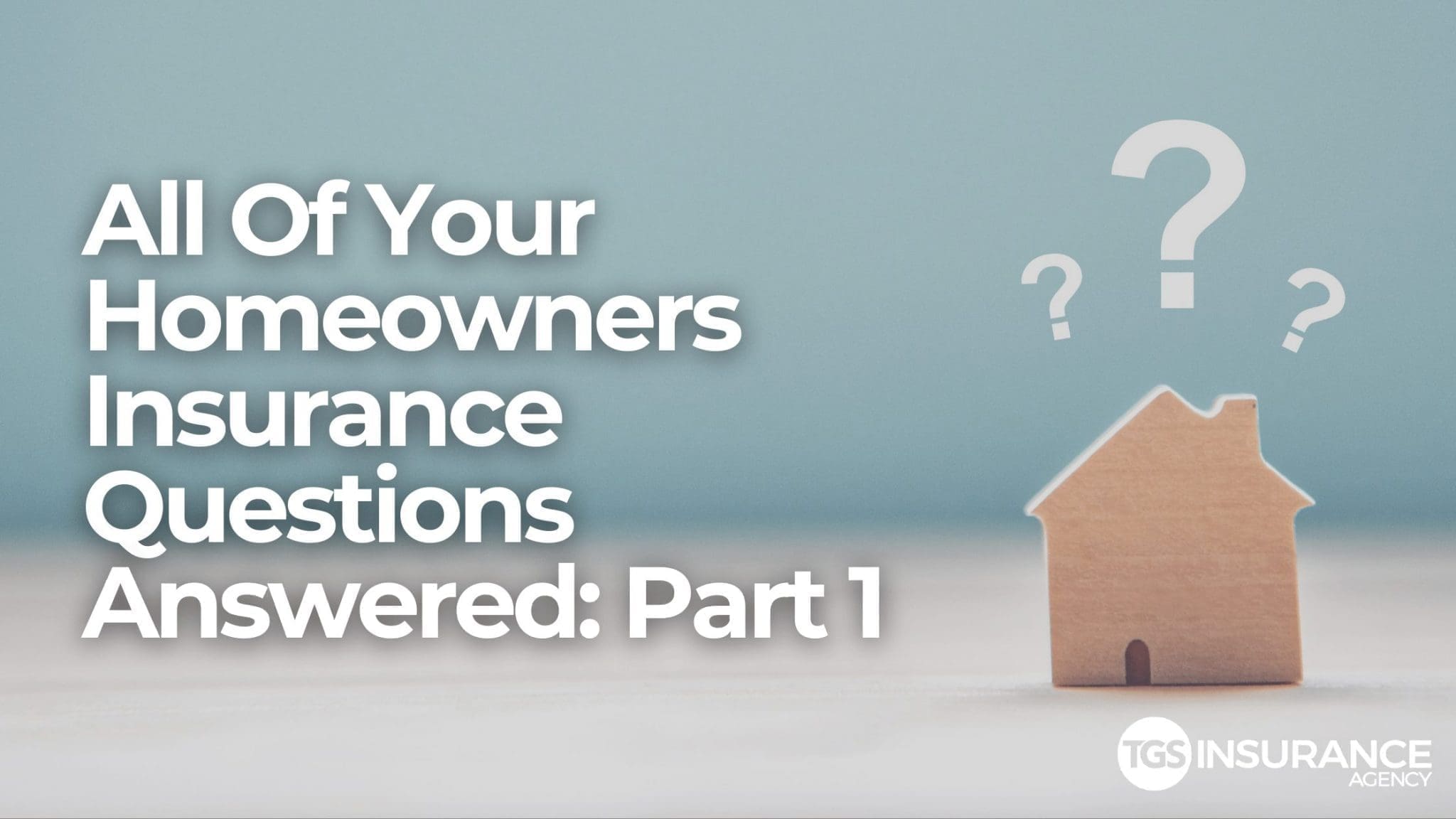 Navigating the ins and outs of homeownership can be tricky and homeowners insurance can be one of the most intimidating aspects, especially for first-time buyers. There are a lot of things to cover from what your policy covers to when to purchase, and much, much more. Not every policy is the same and your coverage options can vary depending on your carrier and individual home insurance policy. It's always best to speak with your agent (TGS Insurance's team is here to help) to understand your policy, but we can take a closer look at some of the more universal questions homeowners have regarding their home insurance policy.
1. What is Home Insurance?
Your home insurance policy is there to protect you and your home in the event a named peril were to occur. These perils can differ depending on the type of homeowners insurance policy you enroll with, but some of the most common perils include theft, vandalism, fires, damage from vehicles, damage from aircraft, lightning, explosions, and personal liability.
2. How Much Does Homeowners Insurance Cost?
The price of your policy will depend on a variety of factors including where your home is located, the contents within your home that require coverage, the crime rate in your area, weather events in your area, and a variety of other factors that insurance carriers assess before calculating the risk to insure your home. Each insurance provider will also weigh these risks differently, meaning there are even more variables to consider. For an estimate, Texans can use this useful tool from the Texas Department of Insurance and the Office of Public Insurance Counsel to find the average home insurance rates in their area. TGS Insurance helps clients across Texas save an average of $870 a year on their home insurance policies.
3. Is Home Insurance Legally Required?
While home insurance is not a legal requirement, it is always encouraged. The risk associated with not having homeowners insurance is tremendous, even for homes that are paid off because replacing your home or its contents after a peril such as a fire can be financially devastating. On top of the risk, homeowners looking to purchase their home via a mortgage will be unable to do so in many cases as most lending companies require a home insurance policy as a term and condition of the loan.
4. Does Home Insurance Protect Against Water Damage?
Accidental water damage may be covered by your policy if it is sudden by nature. For example, accidental overflow of an appliance, faulty plumbing, or water damage caused by a roof that is damaged in a storm and exposes your home to rain. Natural wear and tear are not covered by your home insurance policy, however, meaning if an appliance, your plumbing, or your roof were to fail due to age and a lack of maintenance, you can expect to pay for the damage out of your own pocket.
*It is also important to note that flood events from outside of your home that impact the inside of your home including pools and weather events.
5. What Is A Premium?
Your home insurance premium is the amount you'll pay every month or year for your home insurance policy. Again, the price you pay will be determined by your insurance carrier based upon several factors associated with the risk of insuring your home.
6. Can I Change Home Insurance?
Yes, changing your home insurance policy is easy with TGS Insurance and you can do so at any time! We help our clients by shopping for the lowest rate on the market and handle the entire process. We even work with your mortgage provider for a smooth transition.
7. Who Offers the Cheapest Homeowners Insurance?
There are a lot of different factors that contribute to the cost of your homeowners insurance, and since each home is unique from any other, it will differ from home to home.
8. What Is a Deductible?
Your homeowners insurance deductible is the amount you must pay from your own pocket before your insurance policy will take over. So, if you suffer a covered peril that would cost $3,000 and have a deductible of $1,000, you would pay for $1,000 of the damages with your homeowners coverage paying for the remaining $2,000.
9. When is the Deductible for Homeowners Insurance Paid?
Your homeowners insurance deductible must be paid before your insurer will pay their portion of your claim.
10. Can You Deduct Your Homeowners Insurance From Taxes?
In some cases, a deduction can be applied if you work from home, however, in most cases, your homeowners insurance is not an eligible tax deduction.
11. What Causes Home Insurance Premium Increases?
Your home insurance premium can suffer an increase for many reasons. These range from a large number of insurance claims, the increase in labor and materials to rebuild homes, and the recent increase in frequency involving major, destructive weather events such as wildfires and hurricanes. TGS Insurance agents continue to help our clients well beyond signing up for their homeowners insurance. If you are subject to a rate increase around your renewal, your agent will comparison shop once again to keep you insured with the same level of coverage all for the best price available in your market.
12. Is Hazard Insurance Equal to Homeowners Insurance?
Hazard insurance is a part of your homeowners insurance that protects you, your home, and your family safe from weather-related hazards listed in your homeowners insurance policy.
13. Is My Home Insurance Included in My Mortgage?
Though your home insurance premium is separate from your mortgage, many lenders can create an escrow account for you to pay both your home insurance premiums and property taxes. Escrow accounts allow a third-party to distribute your funds to the appropriate entities, which in this case, would be your insurance provider and your county tax collector.
14. Are Mortgage Insurance and Homeowners Insurance the Same Thing?
No, mortgage insurance is a plan that protects lenders should homeowners purchase a home with a down payment that is less than 20%. Your homeowners insurance is a policy that protects you, your home, those living in your home, and your possessions from the variously named perils in your policy.
15. Can Your Homeowners Policy Be Canceled?
Yes, your homeowners insurance policy can be canceled at any time and for any reason by your insurance provider; however, there is usually a reason that your policy gets canceled. This can include excessive claims, failure to pay, having a pool or another significant change without notifying your insurer, bad credit, fraud, etc.
16. Will My Home Insurance Cover Injuries?
Your home insurance covers injuries that occur to visitors on your property to help protect you from liability. If you or another member of your household are injured, however, you will need to rely on a separate health insurance policy or pay out of pocket.
17. Do Rental Properties Need Homeowners Insurance?
Renters will need renters insurance, while landlords can protect themselves with landlord insurance.
18. Is Flooding Covered By Homeowners Insurance?
No, flood events from outside of your home require a separate flood insurance policy. Sudden and accidental flooding caused by a burst pipe or an appliance overflowing may be covered, however, normal wear and tear will not. Considering around 1 in 4 flood insurance claims come from homeowners outside of flood zones, flood insurance is a great idea to keep you protected no matter where your home is located.
19. Will My Home Insurance Cover Sewer Lines?
Your home insurance policy may cover replacement or repairs to your sewer lines that are of a sudden and accidental nature, but this may depend on your insurance provider. Sewer backup, sump pump failure, and other recurring issues are not covered by your home insurance policy and will require separate coverage. TGS Insurance offers unique protection for these events that can help supplement your home insurance coverage and help you protect yourself from sewer issues up to $25,000+. This coverage is customizable and available to our clients.
20. Does My Homeowners Insurance Policy Cover Tools?
Lost and broken tools are not typically covered by a homeowners insurance policy. You can protect your tools from theft with a homeowners insurance policy, however, some limits will apply in most cases. Additional protection can be written and higher policy limits allowed depending on your protection needs.
21. Will My Homeowners Insurance Cover Termites?
Because termites can be prevented by routine maintenance including routine spraying and discarding of materials such as large collections of excess wood around your home, termites are not covered by your home insurance policy.
22. Which Area of My Home Is Not Covered by Home Insurance?
Your home and the other structures on your property including fences, garages, sheds, and guest homes are all covered by most home insurance policies. What is not covered are perils. There are named perils in your homeowners insurance that will be acceptable causes for you to file a claim, but outside of those named perils, you'll need to pay for them either through another form of protection (i.e. flooding will need a flood insurance policy) or out of your own pocket (i.e. paying to fix an old appliance that is not under warranty).
23. Are College Students Covered by Homeowners Insurance?
Full-time students that are under the age of 24 and live on campus are covered by homeowners insurance. If students do not live on campus, renters insurance would be required for protection.
24. Is Accidental Death Covered by Home Insurance?
If a guest were to accidentally pass away at your home, your home insurance policy will likely provide death benefits to the deceased party's family.
25. Who Offers the Best Home Insurance?
Different carriers will offer different policies and each home is different in terms of needs and budget. For these reasons and many others, choosing the best home insurance carrier is subjective. Using an insurance agency such as TGS Insurance allows homeowners the opportunity to forgo a singular brand and shop among more than 35 top-rated insurance carriers to find the best coverage for their specific needs all at the lowest available price.
26. Is Tornado Damage Covered by Home Insurance?
Many policies cover tornado damage but not all. At TGS Insurance, we automatically write-in windstorm protection to every home insurance policy we provide with a 2% deductible.* This can be adjusted as you see fit and gives homeowners a customizable experience to their home insurance needs.
*Deductible percentage may vary by location.
27. Is Tree Removal After a Storm Covered by Home Insurance?
If the tree has caused damage to your home, your home insurance policy will cover the removal of the tree from your property. If the tree is blocking your driveway, you may also have it removed and covered by your home insurance policy. Trees that fall from a storm but do not cause damage or obstruct your driveway will not receive coverage for removal.
28. What Is Another Name for Homeowners Insurance?
Home insurance, homeowners insurance, HOI…it's all the same.
29. Will Home Insurance Cover Theft?
Theft is a covered peril for your home insurance policy which is why it is important to have an organized record of the valuables in your home. Take a look at our previous article that can help you keep a secure record of your personal possessions should you have to file a claim with your insurance carrier due to items being stolen.
30. What is a Typical Deductible for Home Insurance?
A typical home insurance deductible ranges between $500 and $2,000 with $1,000 being the most popular choice.
31. Will My Homeowners Insurance Cover Foundation Repair?
Homeowners insurance will cover foundation repair if the cause of the damage was from a named peril. If your home's foundation is damaged from a peril not named on your policy, you will need the appropriate coverages or have to pay for the repairs out of your pocket. An example of this would be foundation repair caused by plumbing that has burst in an accidental and sudden nature. Your home insurance policy would repair your foundation in this instance, however, homes suffering from foundation repair in the aftermath of a flood would require flood insurance or need to pay for it alone.
32. How Much Homeowners Insurance is Enough?
The purpose of your homeowners insurance policy is to restore what is lost in the event your home and/or possessions were to be damaged or stolen and to protect yourself against personal liability. You'll need to secure a homeowners insurance policy that can cover the cost of rebuilding your home, replacing your possessions, and provides coverage should you find yourself needing protection from a visitor who was injured on your property. Speak with an agent today and find the best possible insurance policy for your needs to determine which policy is right for you.
33. Does Home Insurance Cover Hiring a Repairman?
Approved claims that require a repairman to restore the loss can be covered by your home insurance policy. Other jobs including routine maintenance or elective renovations are not.
34. How Are My Home Insurance Claims Paid?
Claims are paid to homeowners via check or electronically once damages have been assessed to your home and/or possessions.
35. If There is Extra Money From a Claim Can I Keep It?
It is never a good idea to inflate or lie about the costs associated with restoring your home to where it needs to be. If there is extra money left over from your claim and you did not deceive the insurance company, you should communicate with your provider to see how it should be handled. Oftentimes, insurance companies will allow homeowners to keep the remaining funds if things are in order, but the last thing anyone wants to do is to spend money that is not theirs only to have to pay it back later down the road.
36. Are Dog Bites Covered by My Home Insurance Policy?
Your home insurance coverage includes liability protection and can cover dog bites to both other animals and humans. Some breed restrictions may apply and it is best to speak with your agent about these restrictions to better understand your home insurance policy.
37. Do You Pay in Advance for Homeowners Insurance?
The most common method of paying for homeowners insurance will see homeowners pay for the first year of their coverage in advance at closing with monthly payments made from that point forward coming from an escrow account.
38. Is My Home's HVAC Covered by Home Insurance?
Your HVAC system is covered by your home insurance policy should it become damaged due to a named peril. Normal wear and tear and other maintenance issues will require a warranty or for you to pay for the costs on your own.
39. Does Home Insurance Provide Property and Liability Protection?
Yes, though due to policy limits, this may not be enough in some cases. Homeowners looking for even more protection can add an umbrella policy to their homeowners insurance policy to stay protected where they may otherwise experience lapses in coverage.
40. Are Broken TV Screens Covered by Home Insurance?
If your television screen is the victim of vandalism or a weather-related named peril, your home insurance policy will cover it. Accidents and wear and tear, however, are not covered by your policy.
41. How Do I Choose the Right Home Insurance Policy?
Comparing your coverage needs with the rates available on the market through the various insurance carriers that can insure your home will point you in the right direction, but with so many different brands, how can you be sure that you are getting the best coverage for the best price? TGS Insurance does the work for you and compares over 35 top-rated home insurance brands at once to find the maximum amount of coverage for your home all for the lowest price on the market.
42. Are Bed Bugs Covered by My Homeowners Insurance?
Similar to termites, because infestations of these sorts can be prevented and eliminated with routine maintenance, they are not covered by your homeowners insurance policy.
43. Where Is My Home Insurance Declaration Page?
Your home insurance declaration page is found most commonly as the first page in your invoice which is given after enrolling with your insurance provider. This page will state the coverages you are enrolled in, your policy limits, and your deductibles. If you are unable to locate your declaration page, simply contact your insurance provider to receive a copy.
44. Is Mold Covered By Standard Homeowners Insurance?
The easy answer is that there is none. On one hand, if your mold problem is caused by a covered peril, you are covered, and on the other, if you run into issues involving mold that is caused by something not named on your policy, you are not covered. Water damage from a leaky roof that is the result of a windstorm that causes mold will be covered but water damage from a leaky roof that is the result of wear and tear would not be. Mold is a complicated area for any insurance agency and speaking with your agent is the best solution for learning more about your specific homeowners insurance policy.
45. Will My Home Insurance Protect Items in Storage Units?
So long as your possessions are affected by a named peril, they will be covered even while inside of a storage unit by the same protections your possessions inside your home are afforded.
46. Are Broken Pipes Under a Slab Covered by Home Insurance?
If there is damage and if that damage is from a covered peril, your home insurance policy will cover this event. The damage suffered must be of a sudden and accidental nature and can not be caused due to normal wear and tear nor neglect.
47. How Do I File a Claim With Someone Else's Home Insurance?
If you believe a homeowner to be at fault for an injury or another incident that would be a named peril within their home insurance policy and that homeowner refuses to take responsibility, you will need proof when filing with another home insurance agency. This means that you will need to have proof of medical procedures, police reports, and other official documents that can be used as evidence before filing your claim with their agency.
48. After a Non-Renewal, How Do I Get Home Insurance?
If your home is not being renewed by an insurance company, it is important to speak with an agent to gain protection as quickly as possible to avoid lapses in coverage and your lender picking a home insurance company without your input. There are many reasons to choose an insurance agency over an individual insurance carrier and this is one of the big ones. At TGS Insurance, not only does your agent work for you instead of the insurance company by staying on top of things like non-renewals, but it allows your agent to find the best solution for your coverage should you face this issue. All while maintaining coverage for the lowest price on the market.
49. How Long Are Home Insurance Claims on Your Record?
Though this may differ depending on which insurance provider you enroll with, on average, home insurance claims are on your record anywhere between five and seven years.
50. Who Is My Homeowners Insurance Company?
Enroll with TGS Insurance for complete clarity. It can be difficult to keep track of where your payments from escrow are going but not with TGS Insurance. Our agents are trained to work with your mortgage lender and communicate between the top-rated insurance carrier of your choice and your mortgage company for a smooth translation and seamless communication. Contact us today and protect your home with better home insurance coverage for less.
Source: SmartFinancial